Welcome to the Festival Choir of First Unitarian: Worcester's Finest Chorus!
Sing what you love.   Love what you sing!
Here's a sampling of our 2014 choral repertoire in Worcester at 1st U:
Britten: Rejoice in the Lamb; Rutter Requiem (full orchestra); Jenkins Peacemakers (full orchestra, Mech. Hall)
Carl Orff: Carmina Burana (O Fortuna); Robert Ray: Gospel Mass
Lauridsen: O Nata Lux, Sure on This Shining Night; Daley: In Remembrance
Classical Works by: Norman Dello Joio,  Randall Thompson, Michael Haydn, Jean Berger, Wm. Mathias
Exciting gospel arrangements: This Little Light, Give Me the Faith, Siyahamba, Come Yonder Day, Where The Spirit Is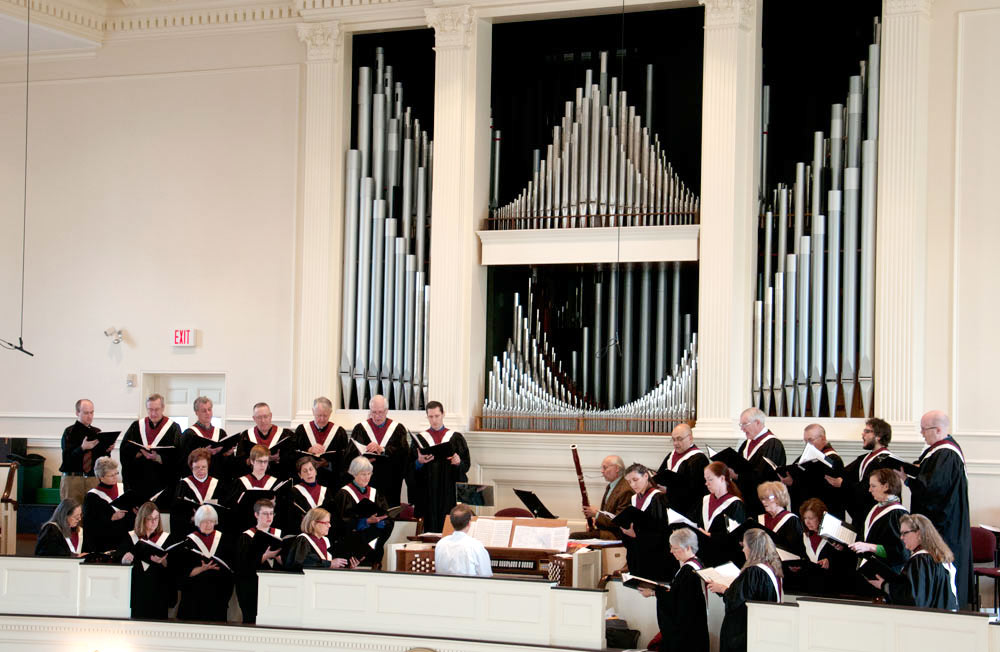 Sunday morning anthem, with Bassoon & Organ accompaniment. Matthews: The Lord Is My Shepherd (a beloved "Protestant standard" anthem)
We hope you'll consider visiting us as our guest for a few Sundays this year.
We are a fun group with a diverse repertoire (Gospel to New Age, Classics and Contemporary) and  goals of high quality.
We rehearse most Thursday nights 7-9pm, and sing approximately 3 Sundays per month. 
Overview of 2014 Choral Repertoire
CLICK HERE FOR REPERTOIRE HIGHLIGHT LIST - ex: Britten: Rejoice in the Lamb, Rutter: Requiem(with FULL orchestra)


World-Music and Gospel (spirituals) repertoire are included in our wide repertoire of styles.
Above is "Healing Light" (Jenkins' Peacemakers) with congas, bongos, sax, cello, bass, and recorders.
Worcester - Great Repertoire for Chorus, no auditions!
We're flexible about attendance—we know that people have business and family obligations. 
As long as you know the music, come on over and sing with us!
Of course, we feature our weekly Processional Hymn, often with descants, timpani, and organ interlude – a fantastic & energetic start for each service. 
And, while you're there, you won't be wasting a trip: we typically enjoy a packed docket:  2-3 anthems (someimtes 4!), plus a full introit and outtroit.

Hear some recent samples from Sunday Feb 2, 2014:

Hogan-The-battle-of-Jericho(2-2-14).mp3 (a fun old standard, a cappella)


Lauridsen-Sure-on-this-shining-night(2-2-14).mp3 (with piano)


Matthews-The-Lord-is-my-shepherd(2-2-14).mp3 (with organ and bassoon accpt (top picture above))


Jenkins-Healing-Light(2-2-14).mp3 (choir processional; picture above)


Our detailed schedule can be found online at www.FirstUMusic.com/schedule   and more information for guests and about us at www.FirstUMusic.com

Thursday night chorus rehearsals in Worcester are a lot of fun and some great music-making. Lauridsen: Sure on This Shinging Night


Please email for more information, or just come and visit sometime.  No obligation.

No auditions.   Low stress.   Lots of repertoire and great music!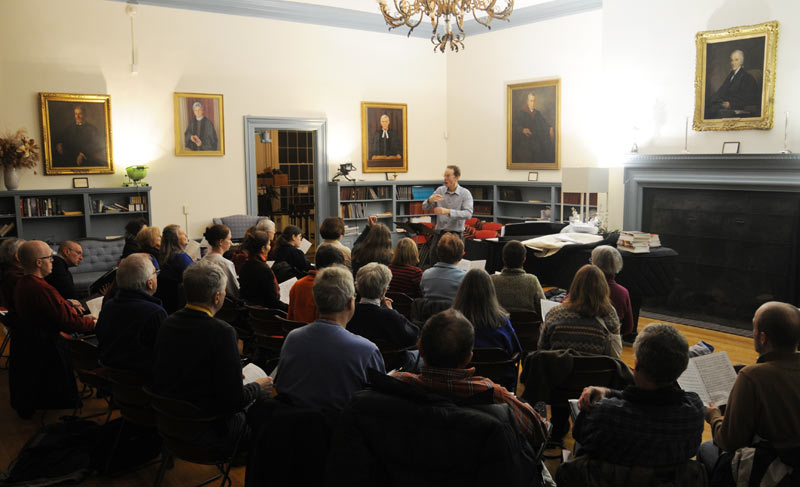 Thursday night chorus rehearsal in the Bancroft Room (church parlor), with Steinway B accompaniment (always a joy to sing with).
Singcerely,
Will Sherwood, ChM, AAGO
Director of Music, Organist
Join us for an exciting 2014 year singing in the 1st U Festival Choir
1st U Festival Choir welcomes you to join us for our 2014 repertoire—lots of music!
(Sunday morning reh at 9am; most Thursday evenings 7pm)
No long-term commitments - visit and try us out!
online schedule: www.FirstUMusic.com check out all these great pieces and major works:
01-19

Celebrating MLK Day
I'm Bound for the Promised Land - Lou Hayward (American; 1932-) 02:26
Hear Me, Redeemer - Henry Mollicone (American; 1946-) 03:20
Give Me the Faith - Nicholas Vangeloff 02:00
Softly and Tenderly Jesus Is Calling - Will L. Thompson (American; 1847-1909) (arr. Will Sherwood) 05:30
The Lord Bless You & Keep You (Lutkin)
Jean Gough, soprano soloist
Scott Taylor, bass soloist

01-26

Laudate Dominum - Wolfgang Amadeus Mozart (Austrian; 1756-1791) 04:20
Cantate Domino - Giuseppe Ottavio Pitoni (Italian; 1657-1743) 00:50
Alesia Tringale, soprano

02-02

Prelude: Trio Sonata in F major HWV 405 Allegro; Grave; Allegro (Handel)
Festival Choir:
Healing Light: A Celtic Prayer - Karl Jenkins (British; 1944-) 05:15
Sure on This Shining Night - Morten Lauridsen (American; 1943-) 04:50
The Battle of Jericho - Moses Hogan (American; 1957-2003) 02:15
The Lord Is My Shepherd - Thomas Matthews (American; 1915-1999) 03:55

02-09

Jean Gough, directing; James Haupt accpy
Together in One Song - Dale Wood (American; 1934-2003) 03:40
Eternal God - Gilbert Martin (American; 1941-) 04:25

02-23

Great and Glorious - Joseph Haydn (Austrian; 1732-1809) 03:15
Subdue Us Through Thy Kindness - J. S. Bach (German; 1685-1750) 02:05

03-09

In Thee, O Lord, I Put My Trust - Vassily Kalinnikoff (Russian; 1866-1901) 01:25
Praise Him - J. S. Bach (German; 1685-1750) (arr. John Michael Diack)
Over My Head, I Hear Music -

03-16

Jean Gough, directing; James Haupt, accpy
Fiat Pax in Virtute Tua - Karl Jenkins (British; 1944-) 03:25
Healing Light: A Celtic Prayer - Karl Jenkins (British; 1944-) 05:15

03-30

4PM The Peacemakers - Karl Jenkins
with orchestra at Mechanics Hall

04-13

Palm Sunday
Abide with Me - John Gardner (British; 1917-2011)
Kyrie - Charles Marie Widor (French; 1844-1947) 03:55
Ride On, Jesus, Ride - Marty Haugen (American; 1950-) 04:20

04-20

Celebrating Easter with the 1st U Festival Choir & Soloists
Anniversary of Boston Marathon Bombing
Soon Ah Will Be Done - William L. Dawson (American; 1899-1990) 03:50
In Remembrance (from Requiem) - Eleanor Daley (Canadian; 1955-)
O Nata Lux - Morten Lauridsen (American; 1943-) 04:05

04-27

Yonder Come Day - Georgia Island Spiritual
Wade in the Water - (arr. Moses Hogan) 04:05
Cause Us, O Lord - Ron Nelson (American; 1929-) 03:15
Say Ye to the Righteous - Randall Thompson (American; 1899-1984)
The Eyes of All Wait Upon Thee - Jean Berger (German; 1909-2002) 02:50

05-04

Healing Light: A Celtic Prayer - Karl Jenkins (British; 1944-) 05:15
Where the Spirit Is - Kirk Franklin (American; 1970-) 03:50
Let the People Praise Thee, O God - William Mathias (British; 1934-1992) 05:40
Let All Creation Bless the Lord - William Bradley Roberts (1947-) 04:00
Elijah Rock - (arr. Jester Hairston) 02:45

05-18

Music Sunday - A Celebration of Spring with the 1st U Festival Choir
Rejoice in the Lamb - Benjamin Britten
Soloists: Alesia Tringale, Carrie Reid-Knox, Steven Huff, Scott Taylor
Assistant conductor: James Haupt
O Fortuna (Carmina Burana) - Carl Orff (German; 1895-1982)

Coming in the Fall of 2014:

Gospel Mass – Robert Ray

Requiem – John Rutter full orchestra version & harp, timpani, organ

New anthems for Christmas, too!

Hope you can join us
-- Will Sherwood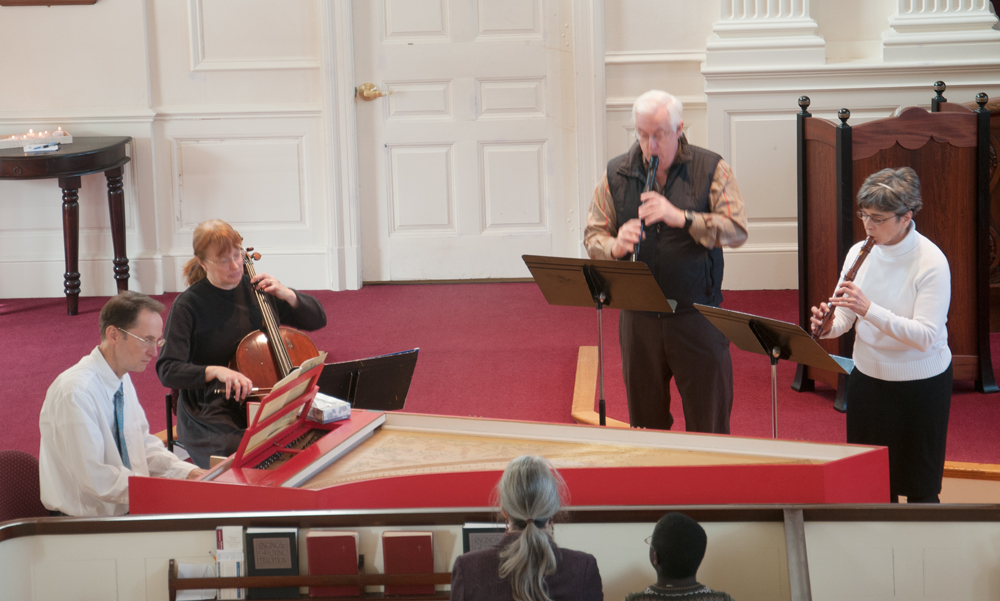 Baroque Alto Recorders, with cello and harpsichord, for a Sunday morning prelude (Handel Trio Sonata)