THANK YOU! THANK YOU!
WE RAISED A LITTLE OVER $10,000
WE ALSO RAISED THE ROOF! SOME GREAT MUSIC AND GREAT SPIRIT.
(samples from concert) The Saints My One and Only Love Give Me the Faith Basin Street Blues
---
PRESS RELEASE AND PUBLICITY INFORMATION FOR
KATRINA BENEFIT CONCERT
OCTOBER 1, 2005
PRESS RELEASE ARTICLE POSTER PDF (for image)
CALENDAR ENTRY:
The First Unitarian Church of Worcester will be raising money for the American Red Cross with a Benefit Concert on October 1, at 7:30 p.m. at 90 Main Street. The church is urging the entire community to come together and open their hearts and wallets for those who need our help. The concert will feature an eclectic mix of jazz, spirituals and contemplative music. Performers will include soloists and the Festival Choir of First Unitarian, Bruce Hopkins (trumpet), Jeffrey Wood (organ), David Blodgett (guitar), Bob Gordon (percussion), Noel Cary (clarinet and sax), Jerry Bellows (piano), and Will Sherwood, ChM, AAGO (piano and director). Suggested Donation: $20
Please join us. Open to the public.


Additional Information:

Sponsors are suggesting a donation of $20, but "everyone who wants to help in any amount should come," according to Rev. Barbara Merritt, Senior Minister at First Unitarian Church. "Our goal is to raise at least $10,000 for the Red Cross on this one evening. As a bonus, donors will receive some Mardi Gras beads."

First Unitarian Church raised over $7,000 at its Sunday service last week for Katrina relief efforts being administered by Unitarian Universalist agencies. "In worship we raised some money, some of which was specifically to help Unitarian Universalist churches in Louisiana, who have been hard hit by Katrina. But now we want to raise a lot more money for the Red Cross, who is helping everyone in need," said Rev. Tom Schade, Associate Minister at the church.

"We have chosen music which is uplifting, heartwarming and inspirational for this concert; music touches the soul and can help us make a connection with those who are suffering. Music can also inspire us to help those in need get back on their feet," says Will Sherwood, Director of Music at First Unitarian.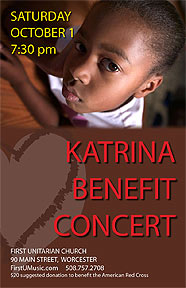 POSTER PDF