Gospel/jazz CD:
Feel the Spirit
Listen to Sampler (MP3 Collage of 10 tracks: 1.9M, 2:50)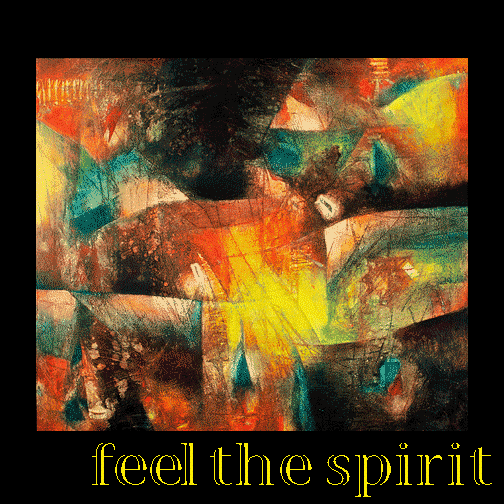 Cover Artwork: Kathleen Cammarata, Nearer, 2002, 34 x 38", Oil on canvas
CONTENTS (click underscored titles to hear excerpt of track)
1
2
3
4

9
10
11
12
13
14
15
16
17
18
19
20
21
22
23

Feel Good Tyson-Scott
Jubilate Deo Paul Halley
Hear Me, Redeemer Mollicome
Gospel Mass (excerpts) Robert Ray
Kyrie, Gloria, Acclamation, Sanctus, Agnus Dei
Peace Like a River arr. Moore
Precious Lord, Take My Hand Dorsey, arr. Sherwood, Long
Day by Day (from Godspell) Schwartz
Hush, Hush, Somebody's Callin' My Name arr. Dennard, Sherwood
Give Me the Faith N. Vangeloff
Elijah Rock arr. Hairston
Sometimes I Feel Like a Motherless Child arr. Sherwood, Bellows
Wade in the Water arr. Hogan
Come Sunday Ellington, arr. Sherwood
I'm Bound for the Promised Land arr. Hayward
Amazing Grace arr. Coates
Walking with the Spirit (Piano Medley Improvisation) arr. Sherwood
Steal Away arr. Rutter
Deep River arr. Rutter
When the Saints Go Marching In arr. Rutter

3:03
4:25
3:15
17:14

2:30
4:55
2:30
2:42
1:45
2:30
4:40
3:20
3:15
2:20
3:50
3:15
4:00
4:50
4:58


---
Order using PayPal

Order using your Credit Card

Order by mail with check

Feel the Spirit $17 + $0 shipping USPS priority for the first CD, each additional CD adds $1 shipping

Free Shipping

Tax Deductible
Mail your check(to First Unitarian) for $17 (for 1)
or $25 for 2, $35 for 3, $45 for 4
First Unitarian Church
90 Main Street
Worcester, MA 01608
Those of us who perform this music come from many backgrounds and traditions.
It is our honor to pay homage to those composers and musicians who have come before us.
---
Liner Notes
Music is a vital part of the life and worship of First Unitarian Church. The choir performs repertoire from a wide range of literature: from Gregorian Chant and Anglican traditions to Earth-centric compositions and music from other cultures. Feel the Spirit presents sacred music from another musical tradition: choral music inspired by the spirituals, jubilees, and gospel music from the African-American experience.
Sacred music from the European classical tradition arose out of the musical settings of the Mass, the awesome and mysterious ritual that is the structure of worship, especially in Roman Catholic and Episcopal settings. The words are either the words of the Mass or settings of biblical texts. And the music is glorious and grand, composed to be performed in rich cathedrals. The music conveys God's majesty and grandeur and the glory of humanity's salvation through Christ. Only a few centuries ago, Christianity was the religion of the most powerful people and nations on the Earth, and it gave a divine sanction to European power. The Universe was a hierarchy, with Kings and Emperors at the top, and God the greatest and most powerful Ruler of all.
One of the most remarkable events in the history of the world's religions is the conversion of the African slaves to Christianity. Why would the least powerful people on Earth adopt the religion of those who were enslaving and oppressing them? It is surprising that they did, and even more amazing, the converted slaves turned that Christianity upside down. In a religion that glorified power and sanctioned the status quo, they unearthed the strands of liberation and revolution. The image of Christ as the King of Kings became that of one who would judge the mighty of the earth with justice for the poor. And along the way, they gave birth to a new kind of Christian music, one that emerged and evolved from the grass roots, and spoke of the individual soul's desperate need for the mercy and comfort of God. In Feel the Spirit, we hear the fruits of musical invention and innovation of this genre, as the choir brings us music of great beauty and profound emotional depth, widening the range of emotions that are expressed in worship and meditation, and in our own deep spiritual connection with humankind and the universe.
---
Soloists
Jean Gough, Alesia Tringale, Debra Benschneider, sopranos;
Richard Monroe, tenor; Scott Taylor, bass
Instrumentalists
Marty Gilman, woodwinds; Noel Cary, clarinet; Bob Gordon, percussion;
Jerry Bellows, recorder; Rick Cain, bass (Gospel Mass)
Will Sherwood, piano, organ, synthesizer
Recording Engineer
Bob Gordon
Audio Editing
Will Sherwood, Bob Gordon
Director, Producer, Graphic Designer
Will Sherwood
Photographer
David Nase
Fundraising Chair
Paul Ropp
House Manager
Ellen Thompson
Choir Librarian
Marie T. Shamgochian
With Special Thanks to
Marty Gilman, Bob Gordon, Lucia Clemente Falco
---
Choir
Soprano
Christine Astley
Debra Benschneider*
Joonu Coste
Jean Gough*
XueMei Jiang
Kristine Johnson
Marie Teresa Shamgochian
Nancy Smith
Alesia Tringale*
Ellen O'Neall Waite
Linda Chatalian Wyatt
Alto
Jane Beckwith
Helen Campbell
Catherine Galbreath
Marcia Leonard
Kathleen Rooney
Marjorie Ropp
Susan Stafford
J. Ellen Thompson
Katherine Tower-Ludwig
Tenor
Rosamond Bennett
Brad Benschneider
Dick Kruse
Richard Monroe*
Lauren Ota
Paul Ropp
Susan Schade
Chris Tower
Stanley Wilson
Bass
Jerry Bellows
James Demetry
Gordon Gurney
Glen Hersey
Steve Knox
David Spanagel
Scott Taylor*
---
Production Underwriters
Jesse and Susan Anderson
Anonymous
John and Priscilla Arbuckle
Joan H. Bagley
Justine Beaudoin
Jane Beckwith
Rosamond Bennett
Mrs. Howard M. Booth
Mrs. Howard M. Booth in memory
of Pene B. Rockwell
Clifford and Madeline Browning
Mrs. Elizabeth Burguet
Francis H. Dewey, III
Mr. Henry Dewey
David Fahlstrom
Catherine Galbreath
Janet F. Guerrin
Glen and Marsha Hersey
Dorothy C. Hurlburt
Judy Jensen
Jing River Acupuncture
C. Elizabeth Judd
Fred A. Knox
Richard and Jane Kruse
Peter and Catherine Levine
Mr. John Lund
Rev. Barbara Merritt
Ted Messier and Mary Frandsen
Diane and John Mirick
Mahroo Morgan
Frances Morrier
Mary Rose Paradis and Max Hess
Donald R. Rawding
Paul and Marjorie Ropp
Joan Russo
Rev. Thomas & Susan Schade
Marie T. Shamgochian
Albert Southwick
Linc and Robin Spaulding
David and Susan Woodbury
in memory of Peter A. Glazier
James and Helen Wright

License Royalty Credits:
Paid via Harry Fox