2018 Court Hill Music Festival
PROGRAM NOTES & BIOS
skip to concert:
4/20 Songs of the Parlour, Stage and Silver Screen
4/21 Seele: Flights
4/27 JazzSafari+TapeArt: ARTformance
4/29 Chamber Ensemble + Interpretive Dance
4/30 Pipes Alive: Exploring the King of Instruments
5/1 Pictures in Sound: Piano Showcase
5/6 Showcase Woodwind Trios - CONCERT CANCELLED
---
Friday April 20 - Songs of the Parlour, Stage and Silver Screen
Bios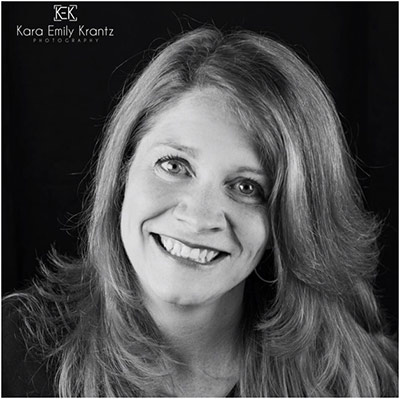 Linnea Lyerly regularly appears in concerts and theater in the Greater Worcester area and has most recently been seen on stage with the Barre Players in the cast of "James and the Giant Peach" and in the JEMS production of "South Pacific". She has performed in Worcester County Light Opera's production of "Urinetown", Weston Friendly Society's production of Steven Sondheim's "Company", as well as Calliope Theater's productions of "Lucky Stiff", "Into the Woods", and "Once On This Island".  Linnea is on the Board at Calliope Theater and is a founding member of Downhill Productions, a theater group that creates and performs musical theater reviews, two of which have been presented in the Arts on the Green series. Linnea received a degree in Vocal Performance from the University of Maryland and is a Music Together teacher. She lives in Boylston with her husband and two daughters.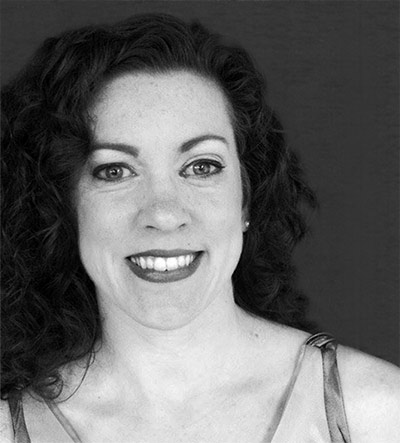 Heidi Choe has performed with several community theaters in the central Massachusetts area including Theater at the Mount, Worcester County Light Opera Company, The Gilbert Players, the Barre Players, Greater Worcester Opera, JEMS Theatre, and at Calliope Productions.  Some of her favorite roles include Nellie in "South Pacific", Evelyn Nesbit  in "Ragtime", Mrs. Banks in "Mary Poppins", Hope in "Urinetown", Adelaide in "Guys and Dolls", Amalia in "She Loves Me", Little Red Riding Hood in "Into the Woods", and Annie in "Annie Get Your Gun". She studies voice with Jane Shivick. Heidi holds a master's degree in Biotechnology and has worked as a Medical Technologist at UMASS Memorial Healthcare for the past ten years.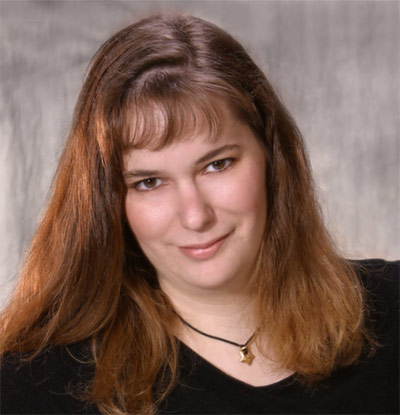 Christina White has performed with choruses, small ensembles, and theater groups throughout the region. Her favorite roles include Mother in Amahl & the Night Visitors, Narrator in Joseph and the Amazing Technicolor Dreamcoat, and various parts in Godspell. She performed solos in such works as Beethoven's Ninth Symphony, Mozart's Requiem, Dvorak's Mass in D, Handel's Messiah, Rutter's Requiem, Vivaldi's Gloria, and Eleanor Daly's Requiem. She recently joined the Festival Choir at First U.
Christina was the Youth Singers Director and resident Vocal Coach at the First Congregational Church in Shrewsbury, MA for many years. She also managed the vocal intern program there, providing training and performance opportunities for promising teenage vocalists. As a founding member of The Downhill Players theater group, she regularly performs in cabaret and coffee house shows. She served as music director at Calliope Theater in Boylston for their critically acclaimed productions of "Lucky Stiff" and "She Loves Me." As the director of Post Road Chorus, she won the Barbara K. Farrell Novice Director award, given to promising new directors in the Sweet Adelines International Organization.
Christina maintains a private voice studio in home in Boylston, MA where she lives with her husband Jim, daughter Ruth, and two weird cats.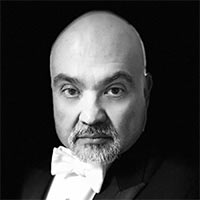 Ray Bauwens is well known to audiences in the New England area. Some of Mr. Bauwens' recent performances have included such roles as Nemorino in L'Elisir d'Amore, Alfredo in La Traviata, Rodolfo in La Boheme, Danilo in Merry Widow as well as concert performances of Elgar's Dream of Gerontius, Beethoven's Choral Fantasy, the Requiem by Verdi and J.S. Bach's St. Matthew Passion and Magnificat.Mr. Bauwens has performed with the National Symphony of the Ukraine, the Mexico State Symphony Orchestra, the Handel and Haydn Society, Boston Academy of Music, Connecticut Concert Opera, Opera Providence, Warren Symphony, Wellesley Symphony Orchestra, Boston Civic Orchestra, the Rhode Island Philharmonic, the New Philharmonia Orchestra, and even the Boston Ballet in Lila York's staging of the final movement of Beethoven's Ninth Symphony. His operatic roles have also included Cavaradossi in Tosca, Dick Johnson in La Fanciulla del West, Riccardo in Un Ballo in Maschera, and Turiddu in Cavalleria Rusticana as well as Edgardo in Lucia di Lammermoor, Matteo in Strauss' Arabella, the title role in Donizetti's Roberto Devereux, Canio in I Pagliacci, Don Alvaro in Giuseppe Verdi's La Forza Del Destino, Pollione in Norma, Ferrando in Mozart's Cosi Fan Tutte and Don Jose in Bizet's Carmen. His concert and oratorio performances include Elijah, Messiah, J.S. Bach's B-Minor Mass and St. John Passion, the Verdi Requiem and Beethoven's Symphony No. 9. Mr. Bauwens has been recorded in his role of Anatol in Samuel Barber's Vanessa by Naxos Records which was recorded in Kiev.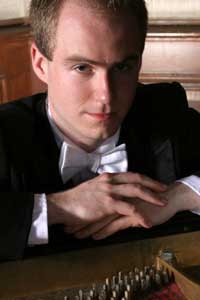 Accompanist James Haupt is well known in the community and college theaters in the Central Massachusetts area as he has music directed, appeared in, and played for countless productions. His favorite past shows include Music Directing for Seussical (Calliope Productions), and Honk! (Sterling Community Theatre). James has been a regular figure in the music program at First Unitarian for the past six years, and has additionally filled in at numerous congregations around the area. He received his Bachelor's degree in Electrical Engineering and Music from Worcester Polytechnic Institute, and is currently pursuing his Masters Degree in Systems Engineering. During the day, James works as a Systems Engineer at Raytheon in Tewksbury, MA specializing in Electronic Warfare. He is Assistant Director of music at First Unitarian.
---
Saturday April 21 - Seele Musicale: Flights of Fancy
Telemann – Concerto in D minor for Oboe
G.P. Telemann's Oboe Concerto in d minor is a remarkable display of the composer's musical brilliance and compositionally innovative style. During his life he achieved both great fame and wealth with acknowledgement and credit from the leading musical minds of that time including Handel and Bach. The form of this work is "Sonata da Chiesa", a 4-movement work (slow-fast-slow-fast) which was very popular at that time. In the 1st movement he creates an amorphous effect through the use of mixed meter in the strings while the oboe floats lazily above. The 2nd movement is a driving march which feels dance-like in the trading off of lines and fast notes between strings and soloist. The 3rd movement utilizes several unusual choral progressions (within a mere 6 bars of music) to evoke a timeless quality while the 4th movement returns to a brisk and driving conversation amongst the ensemble. By allowing the strings and continuo to participate as partners with the oboe, all involved become equals in the creation of this exceptional concerto.
Handel - "Il Primo Ardor"
Ariodante was composed for Covent Garden and was the second in Handel's Orlando furioso trilogy. The naive servant girl Dalinda sings "Il primo ardor" to express her secret love for the wicked Duke Polinesso, who is actually using her as a pawn. Dalinda's eagerness and excitement tumble forth from this aria in a volley of rapid notes as flights of fancy!

Il primo ardor è così caro a questo cor,
ch'estinguerlo non vuol  quest'alma amante. Io son fedel,  nè mai crudel,
e sempre a lui sarà il cor costante.

The first flame is so dear to this heart,
that this loving soul doesn't want to put it out.
I am faithful, never cruel, and my heart will always be loyal to him.
Handel – "Se Mi Rivolgo al Prato"
In the second act of Orlando, the shepherdess Dorinda sings the melancholy "Se Mi Rivolgo al Prato" to Orlando of how she sees the face of Medoro, the warrior with whom she has fallen in love, everywhere, in every flower. And the sounds of stream and forest seem to tell her that he still waits for her.

Se mi rivolgo al prato,
veder Medoro mio
in ogni fior mi fa.
Se miro il bosco o'l rio,
mi par che mormorando
or l'onde ora le fronde,
dicano  ach'amando
qui'l tuo Medoro sta.

If to the meads I take my way, or thro' the verdant valleys stray methinks I see each flower assume my dear Medoro's lovely bloom.
If to the rilling streams I rove or wander in the waving grove, methinks both streams and grove resound these vocal murmurs all around:
"Behold your fond Medoro here, who languishes 'til you appear."
Handel - Chaconne
Handel's Chaconne in G Major, HWV 435, is one of twenty-five suites for harpsichord that were published during his lifetime. While keyboard suites of his contemporaries generally consisted of multiple movements in a dance-suite form, Handel listed this single-movement chaconne as its own individual, complete suite. The twenty-one-variation HWV 435 follows a three-part, ABA structure, observing an expansive set of variations in major (1-8), followed by a set of variations in parallel minor (9-16), and lastly a truncated reprise of the first set of variations (17-21) as to bring this masterpiece to a brilliant conclusion.
Handel  - "Qui L'augel da Pianta in Pianta"
The libretto of Aci, Galatea e Polifemo is based on Ovid's Metamorphoses (XIII, 738–897) and is about the love between the sea nymph Galatea and the shepherd Acis, who is destroyed by the Cyclops Polyphemus. Qui L'augel da Pianta in Pianta  is a charming  Sicilienne sung by Acis (a male role sung by a soprano!) pining for Galatea, with oboe obbligato from one end to the other, sometimes giving an echo to the voice, and sometimes forming a duet with it, and always with infinite grace.

Qui l'augel da pianta in pianta   
lieto vola, dolce canta
cor che langue a lusingar.
Ma si fa cagion di duolo
sol per me che, afflitto e solo,
pace, oh Dio, non so trovar.

Here the bird from tree to tree
happily flies, sweetly sings
to distract the heart that languishes.
But it becomes a cause of sadness
for me alone who, afflicted and alone
oh Lord, cannot find peace.
Telemann - Concerto in E minor for flute and recorder
Melissa Farrow, flutist with the Australian Brandenburg Orchestra writes:
"It was unusual to have both flute and recorder paired together as soloists in the 18th century, partly due to the different ways the instruments speak - the flute far less direct and 'bitey' than the recorder. Here Telemann finds a wonderful balance between the two playing harmoniously together in the opening Largo, weaving them in and out of the spotlight in the fugal Allegro, into a plaintive Largo in E major and ending with a feisty Presto, a Polish hanaque dance in rondo form.

"It is wonderfully moody music. It's interesting to read (Johann) Mattheson's explanation of the meanings of the tonalities chosen by Telemann for this work. The e minor tonality of the first two movements, according to Mattheson represents grief and deep thought, even in the fugal second movement it is quick, virtuosic for both flute and recorder but not cheerful. E major, the key of the third movement Largo, expresses despair and amongst other things, helplessness. The wonderful final Presto, with its strong Polish influence returns to e minor. But Telemann, in his autobiography of 1718 writes ' ...Now a Polish song makes the whole world dance, so I need no care to bring it to an end'."


---
Friday April 27 - JazzSafari+TapeArt© – Program Notes & An Introduction to Improvisation
We present the world premiere fusion of live jazz music with live TapeArt™ large-scale artwork creation - a one of a kind experience where visual artists respond to jazz improvisations. JazzSafari, the jazz ensemble from the Worcester's Joy of Music Program, present a unique experience to involve the listener in how music is improvised: demystifying the process of how musicians + creativity + instruments produce a cosmic fusion of exciting music. The musicians will first demonstrate the elements of improvisatory creation and their instruments' capabilities, and how by listening to each other, synergistic magic happens: an ephemeral moment of aural bliss. They will use musical styles and themes from world cultures to enrich the diversity of the experience, and perform entire selections to highlight the results.
The artists of the TapeArt troupe will to respond to the music of the moment with visual improvisations in various art mediums, using colored tape to form exciting collages of color and texture on the walls surrounding the musicians. Later in the concert, the audience will be invited to add to the artworks to respond to the music they are hearing.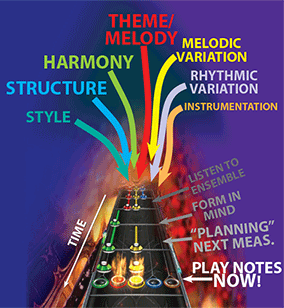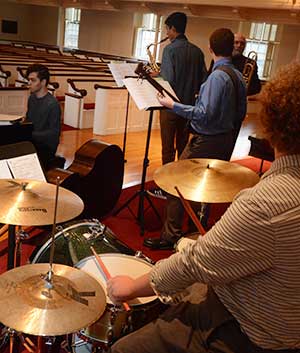 Creating music in real-time.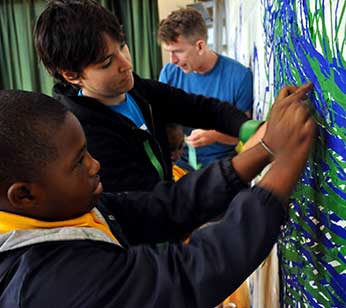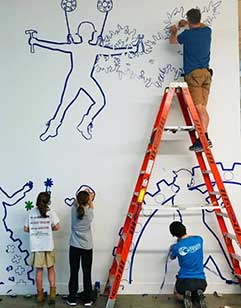 Creating visual art in real-time.
The Artists
The Tape Art movement originated in Providence, Rhode Island in 1989 in the form of large-scale, collaborative drawings created in public spaces. The original Tape Art Crew continues to pioneer and evolve this medium and over the last 28 years they have produced over 500 public works and thousands of smaller drawings in locations around the globe. Leah Smith and Michael Townsend have collaborated together for the past seven years in a wide range of mediums including Tape Art, sculpture, film and dance.


The Musicians
JazzSafari is the jazz enesmble of the Joy of Music Program in Worcester. The ensembles explores jazz as an art form, with a focus on individual improvisation based on scales and harmonic centers. Students experience the rich legacy of jazz styles from Blues and standards to Bebop, contemporary, Latin and original compositions. The ensemble has performed at many events, celebrations and festivals, including stART on the Street, First Night Worcester, Abby's House Springtacular, Habitat for Humanity's ReStore, Mass Audubon's Broad Meadow Brook Santuary and Conservancy Center, Mechanics Hall, WICN Jazz+ Radio, Children's Friend Big Dipper Ice Cream Festival, Taste of Shrewsbury Street, Notre Dame du Lac Assisted Living and Worcester Senior Center. It is particularly exciting to hear the fresh creative spirits from these young musicians.
Liam Keaney, bass
Carrick McCullough, piano
Ryan Rivard, alto sax
Vasant Sundaresan, tenor sax
Tommy Sullivan, drums
Rich Ardizzone, director

How Improvisation "Happens"
Jazz improvisation is the ephemeral process of spontaneously creating live music that is typically based on varying the melody and harmony of a given song. The improviser may follow the contours of the original tune, or solely on the possibilities of the harmonies. It has been said that the best improvised music sounds composed, and that the best composed music sounds improvised. Composed music and improvised music may seem to be opposites, but in Jazz they merge in a unique mixture. The trick to Jazz improvisation is playing music with both spontaneous creativity & intentional conviction. The improviser provides a canvas of sound that is more than just the notes and rhythms—it is an aural roadmap depicting their inspirations in the moment to lead the listener through the music's journey.
"You've got to find some way of saying it without saying it."  
 - Duke Ellington
Improvisation is analogous to language in many ways. With music, we become fluent when the vocabulary (scales and chords) and grammar (harmonic progressions) are assimilated into conversational content or story (melodic themes and structure) and we no longer have to consciously think about them while we play music.
"Ahhh - those Jazz guys are just makin' that stuff up!"  
 - Homer Simpson
A common misconception about Jazz improvisation is that the music "just happens."  Indeed, the creative process does occur in the moment, but the notes played are far from being random: many factors combine to prepare for the magic to happen:
musicians' training & experience;
acrobatic technique on each instrument;
melodic & harmonic patterns & formulas;
listening & relationship with the ensemble.
The notion of in the moment may exist because many small Jazz groups often do not refer to printed music scores when they perform. Jazz players will choose phrases that seem to be preordained so you can intuitively sense where the music is going, even though it's being created at the instant you are hearing it. The musicians are actually spontaneously creating a very intricate form of theme and variation: each member of the ensemble knows the tune and the role of each instrument. The guitar, piano, bass and drums provide a backdrop of rhythm and harmony over which each soloist (taking turns) will create improvised variations. The structure is flexible so that the soloist may venture in various directions depending on the inspiration of the moment. A Jazz musician is creating spontaneous art every time he or she plays music. In fact, spontaneity has always characterized Jazz music's finest improvisers. It's a moment in time that would never be re-created.
"In Jazz, improvisation isn't a matter of just making any ol' thing up.
Jazz, like any language, has its own grammar and vocabulary.
There's no right or wrong, just some choices that are better than others."
   - Wynton Marsalis
Composers including Bach, Handel, Mozart, Beethoven and Liszt have all been celebrated for their ability to improvise in live performances on piano or pipe organ. In a sense, all Jazz musicians are also composers. While they do not necessarily sit down with pen in hand to write out their solos on music score paper, their solos do require the same discipline and training as that of any composer.
"In fifteen seconds the difference between composition and improvisation is
that in composition you have all the time you want to decide what to say in fifteen seconds,
while in improvisation you have fifteen seconds."   
- Steve Lacy
Just as no two artists would paint a scene in the same way, no two musicians improvise in the same way. Seasoned Jazz musicians combine a multitude of techniques to create new tapestries, inspired by the original melody, harmony and structure representing their unique creative passion. In a group session, musicians thrive off of each other's energies and creations—building and combining motifs that result in synergistic whirlwinds of inspired sound.
"Improvisation is the ability to create something very spiritual, something of one's own."
- Sonny Rollins
---
Sunday April 29 - Medwin String Quartet
+ DanceyTown Interpretive Dance
Updated Program Order:
Introduction to Interpretive Dance
Quartet No. 2 Alexander Borodin (1833-1887)
Nocturne: Andante
Quartet No. 8 Dmitri Shostakovich (1906-1975)
I. Largo
II. Allegro Molto
III. Allegretto
IV. Largo
V. Largo
Tango Michael McLean (1952-)
Serenata Michael McLean (1952-)
Q&A with Audience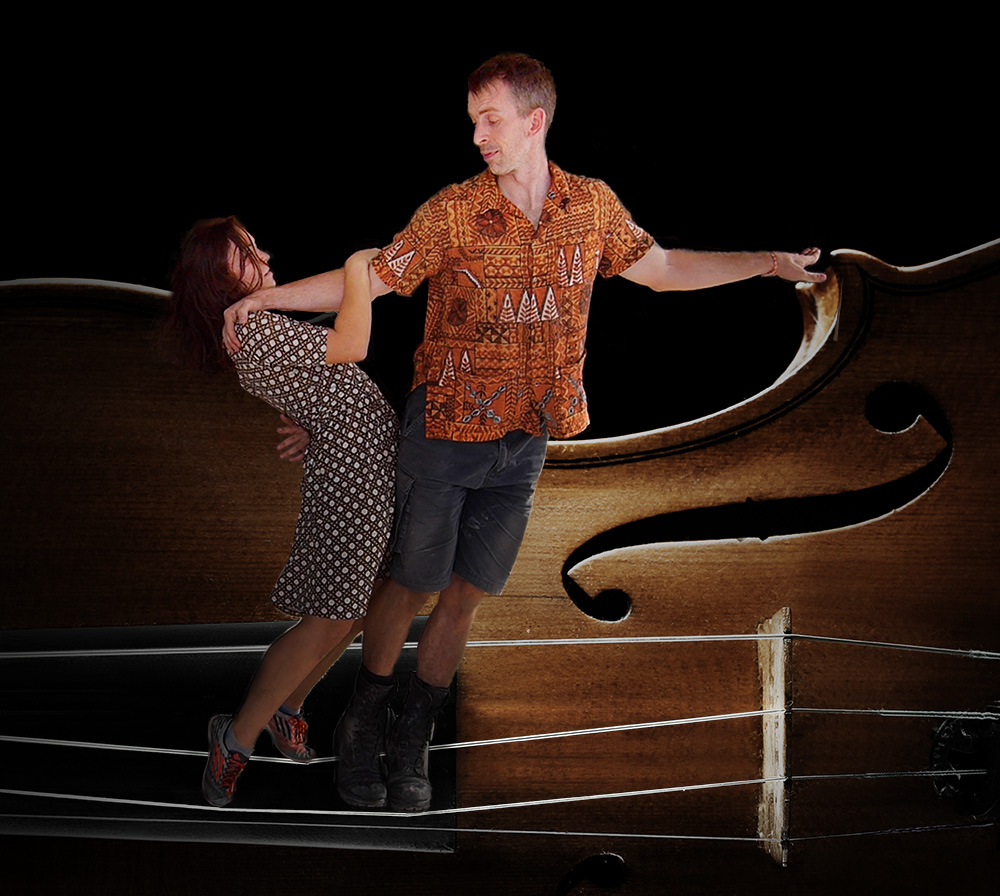 Medwin Honors String Quartet - Bios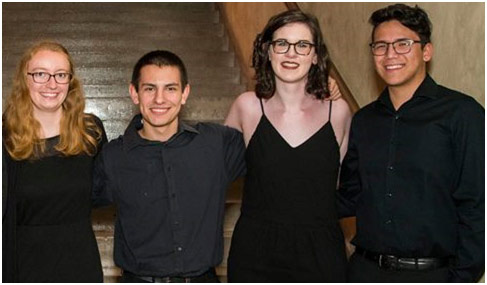 Kerry Muenchow, Violin, ('18)
Kerry Muenchow is a junior at WPI majoring in chemical engineering with minors in materials science and Spanish. Kerry began playing violin at age seven. She is currently concertmaster of the WPI Orchestra and plays in the Medwin Honors String Quartet and Seele Musicale. Throughout high school, Kerry held principal positions in many ensembles including the Western States Honors Orchestra, Colorado All-State Honor Orchestra, Evergreen Chamber Orchestra, and Colorado Youth Symphony Orchestra. In 2011 and 2015, Kerry won the Evergreen Chamber Orchestra Concerto Competition. She previously studied with members of the Colorado Symphony Orchestra; Dorian Kincaid and Rachel Segal, and faculty at the Luzerne Summer Music Program. In addition to her musical studies, Kerry is the president of the Engineers Without Borders chapter at WPI.
Alex Galvan, Violin, ('19)
Alex Galvan is a sophomore Robotics and Mechanical major at WPI. He was born in Laredo, Texas and grew up in Purcellville Virginia. At the age of 8, he began taking private lessons for the violin. While in Virginia, he has played for his school orchestras and the Loudoun Youth Symphony Orchestra. Now, he plays for the WPI orchestra and continues to take lessons with the goal of playing in symphonies throughout his life.
Michaela Hunter, Viola, ('19)
Michaela Hunter is a sophomore at WPI majoring in chemical engineering and biomedical engineering with a minor in music. She began playing viola when she was 8 years old, and by the time she graduated high school she was principal violist of her school's orchestra and chamber orchestra, and had participated in festival orchestras for the Long Island String Festival Association, Suffolk County Music Educators' Association, and New York State Council of Administrators of Music Education. Currently, she plays in the WPI Orchestra, Medwin Honors String Quartet, Seele Musicale, and Clark Sinfonia. She also frequently participates in pit orchestras for WPI musicals. Michaela previously studied with Tom Karolyi and currently studies with Peter Sulski. In addition to her participation in performing groups, Michaela is also the Events Coordinator of WPI's Symphonic Association.
Leo Gross, Cello ('21)
Leo is a freshman mechanical engineering major. He has played cello for 10 years over three different teachers and before that he played piano for 4 years. This is his first year in the Medwin Honors String quartet.
DanceyTown Interpretive Dance - Bios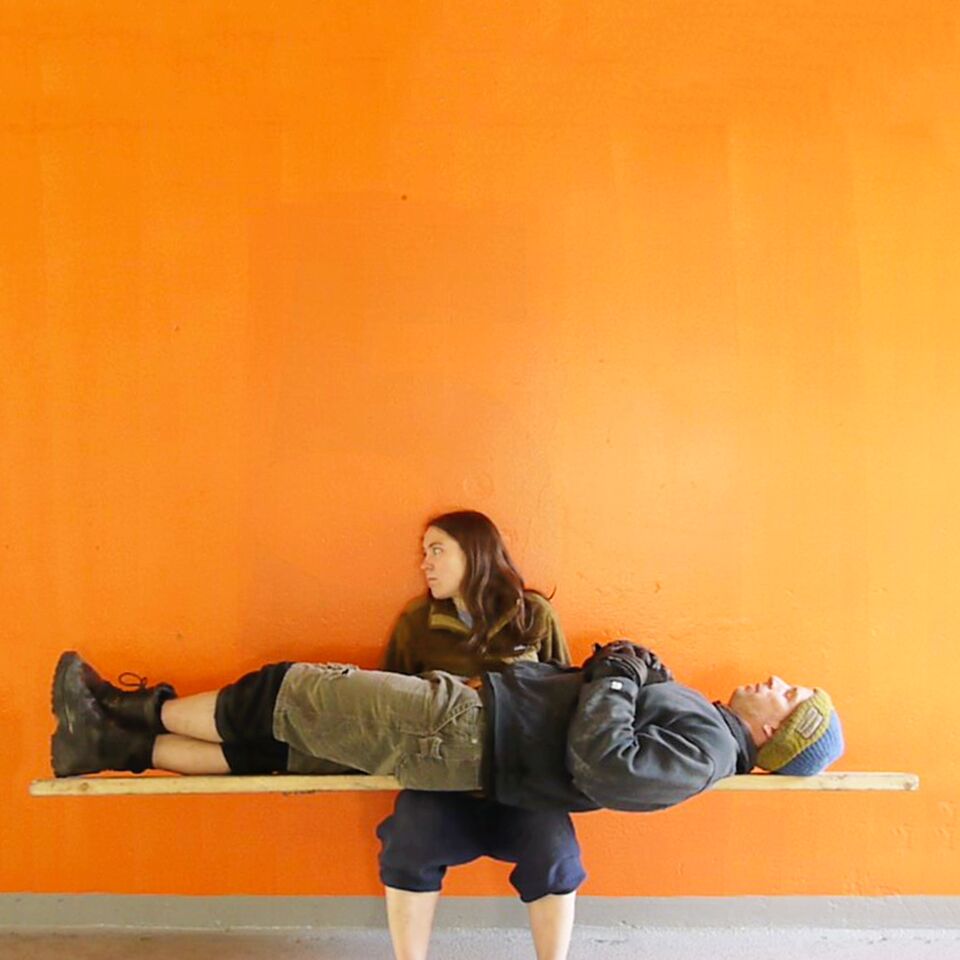 Leah Smith and Michael Townsend have been dancing together for 7 years in the woods, abandoned buildings, smokey casinos and historic dance floors. They have used their movement experiments to anchor short film pieces with occasional collaborations with professional dancers. Their style can best be subscribed as augmented waltzes with a heavy dose of contact improvisation.
---
Monday April 30 - Pipes Alive! Exploring the King of Instruments - Matthew Buller in concert
All About Pipe Organs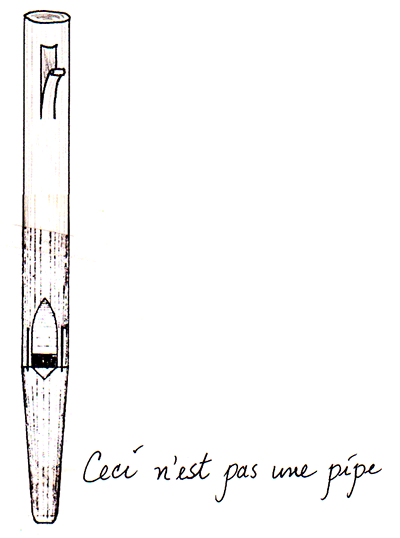 References
ANATOMY OF AN ORGAN PIPE
Pipe terminology follows the human body: toe-foot-mouth-lip: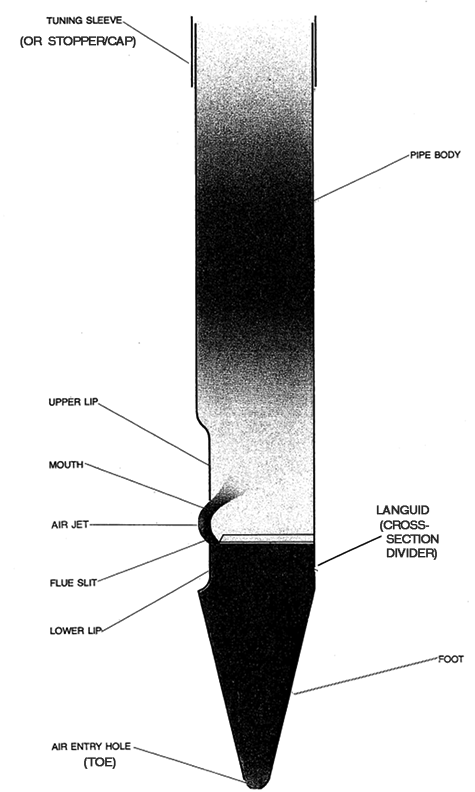 Smoke used as air path tracer to show phases of oscillations at six snapshots during the cycle.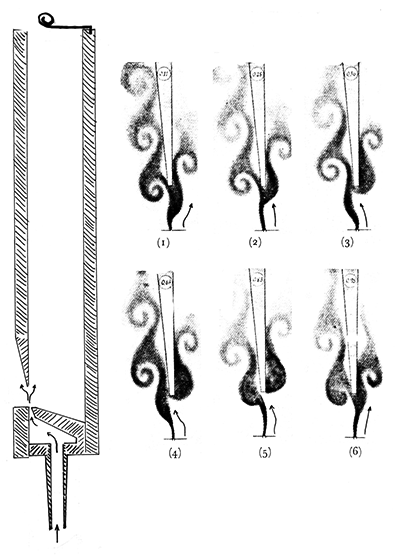 Matthew Buller in concert
(Mr. Buller will offer verbal program notes throughout the concert portion)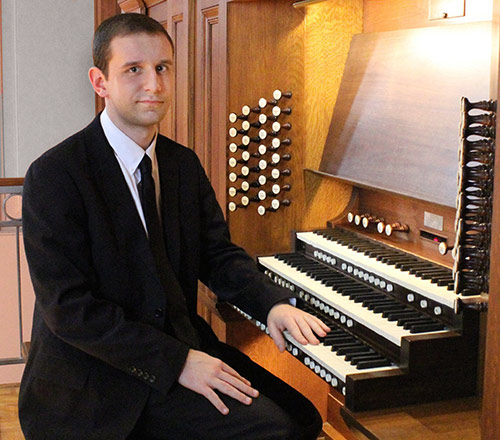 Matthew Buller, a native of Lake Charles, Louisiana, is a recent graduate of the Oberlin Conservatory of Music in Oberlin, Ohio, where he was both an undergraduate and graduate student of James David Christie. At the age of 14, Matthew commenced his church music career by playing organ at the Cathedral of the Immaculate Conception in Lake Charles. Prior to his move to Ohio in 2012, he held numerous positions around Lake Charles, including promotion to Assistant Organist at Cathedral of the Immaculate Conception and Assistant Choirmaster at St. Michael and All Angels Anglican Church. From September 2012 until August 2017, Matthew served as organist at St. Clement Catholic Church in Lakewood, Ohio, In September 2017 he was appointed the full-time Director of Music and Liturgy at Holy Family Catholic Church in Parma, Ohio.
In 2017, Matthew graduated with a Bachelor of Music in Organ Performance and a Master of Music in Organ and Historic Performance, and currently is pursuing an Artist Diploma in Organ Performance at Oberlin. He is continuing his post-graduate organ studies under James David Christie. He also had the privilege of studying under Madame Marie-Louise Langlais in the fall of 2012 and 2016. He also studied with Liuwe Tamminga and Jean-Baptiste Robin in the fall of 2014, and with Philippe Lefebvre in the fall of 2015.  During his junior year, Matthew had the opportunity to study with John Grew and Olivier Latry at the McGill Summer Organ Academy in Montreal, Quebec. In addition to organ studies, Matthew also studied harpsichord at Oberlin with Webb Wiggins and fortepiano with David Breitman.
Because of his access to numerous historically inspired instruments and the outstanding resources at Oberlin, Matthew Buller developed a deep passion for historically informed performance. He is especially passionate about Baroque and Romantic music, and was able to research and perform on the extraordinary instrument collections available to him at Oberlin.  In addition, he spent two Oberlin Winter Terms abroad; Winter Term spans the entire month of January where Oberlin's students devote themselves to independent study and research.  His first Winter Term was spent in France, where he had access to approximately forty historical 17th and 18th century harpsichords and organs from the 17th through the early 20th centuries; his final Winter Term was spent visiting approximately thirty historic organs from the 16th through the early 20th centuries throughout the Netherlands and in both eastern and western Germany.
Matthew Buller has concertized extensively throughout the United States and Canada and he has also performed in France.  Matthew won the 2015 Dallas Chapter of the American Guild of Organists and was a finalist in the Southwest Region of the American Guild of Organists during the same year. During his undergraduate years, he was chosen by the organ faculty to represent the department on the Danenberg Honors Recital.  He was also chosen by the organ faculty to perform the Songsun Lee Memorial Concert on the Lively-Fulcher organ at the Vero Beach Community Church in Florida. He served on the faculty of the 2017 Oberlin Summer Organ Academy and presently serves as Prof. Christie's teaching assistant as part of his Artist Diploma studies.  He will again serve on the teaching faculty for the 2018 Oberlin Summer Organ Academy. On May 11, 2018, he will perform with the Oberlin Orchestra under the direction of Raphael Jiménez in Camille Saint-Saëns's Symphonie No. 3 avec orgue on the Cavaillé-Coll inspired organ built by C. B. Fisk in Finney Chapel.
---
Tuesday May 2 - Pictures in Sound: Liana Paniyeva in concert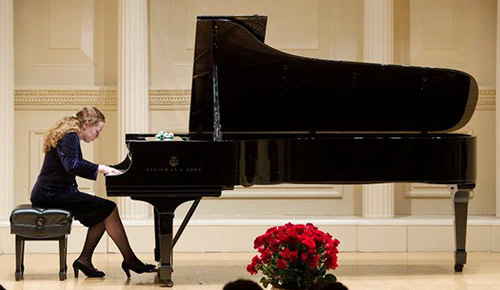 Award-winning Ukrainian pianist Liana Paniyeva currently resides in Boston. Ms. Paniyeva has performed at international festivals in Norway, Hungary, Syria, Italy, and Israel. During the 2012-2013 season, she performed three times at Carnegie Hall in New York City. Most recently, Liana played in concert halls of Scotland, South Africa, and in multiple states of the USA. Her solo recital in 2016 at the Myra Hess Concert Series in Chicago was broadcast live on WFMT Radio. In 2002 Liana is winning prizes in the international piano competitions in Ukraine, she earned Third Prize at the International Competitions in Memory of E. Gilels, First Prize at the International Competition in Memory of Prokofiev, and Second Prize at the International Competition in Memory of A. Karamanov. In 2008, Liana continued winning competitions: she won First Prize in the "Music World" International Competition in Italy. In 2008 in Israel Ms. Paniyeva won a prize in memory of Bracha Eden for a most impressive performance during the competition "The Voice of Music" Jerusalem. In the United States in 2012, Ms. Paniyeva was the winner of the American Protégé International Competition of Romantic Music; recipient of the Grand Prize at the Metropolitan International Piano Competition; and the winner of the AFAF Golden Era of Romantic Music International Competition. In 2013-2015, Ms. Paniyeva was awarded the E.B. Storrs Piano Scholarship from the Musical Club of Hartford. Ms. Paniyeva was also awarded the Cargill Foundation Prize in the 2014 Scottish International Piano Competition in Glasgow, and became a prizewinner at the Iowa International Piano Competition in 2015.

Liana graduated from the Donetsk Music Academy in Ukraine, and went on to earn her Professional Studies Certificate from the Manhattan School of Music in 2011. Her career continues with recitals in Hungary, Israel, Ukraine, USA, England, Syria, Canada, South Africa and Norway. Most recently, Ms. Paniyeva finished her Artist Diploma at The Hartt School of the University of Hartford. In the March of 2017 Ms. Paniyeva was accepted with a full tuition scholarship to the Manhattan School of Music to study with Olga Kern, however in the June the admission office was unable to provide that scholarship. Currently Ms Paniyeva resides in Boston.
Tonight's Program Details
Corelli Variation op 42 Rachmaninoff
Theme. Andante
Variation 1. Poco piu mosso
Variation 2. L'istesso tempo
Variation 3. Tempo di Minuetto
Variation 4. Andante
Variation 5. Allegro (ma non tanto)
Variation 6. L'istesso tempo
Variation 7. Vivace
Variation 8. Adagio misterioso
Variation 9. Un poco piu mosso
Variation 10. Allegro scherzando
Variation 11. Allegro vivace
Variation 12. L'istesso tempo
Variation 13. Agitato
Intermezzo
Variation 14. Andante (come prima)
Variation 15. L'istesso tempo
Variation 16. Allegro vivace
Variation 17. Meno mosso
Variation 18. Allegro con brio
Variation 19. Piu mosso. Agitato
Variation 20. Piu mosso
Coda. Andante            
Sonata  Tragica op 39 no 5 Medtner
Pictures at an Exhibition Mussorgsky
Promenade(1st)
No. 1 "The Gnome"
Promenade (2nd)
No. 2 "The Old Castle"
Promenade (3rd)
No. 3 "Tuileries (Children's Quarrel after Games)"
No. 4 "Cattle"
Promenade (4th)
No. 5 "Ballet of Unhatched Chicks"
No. 6 "Samuel Goldenberg and Schmuÿle"
No. 7 "Limoges. The Market (The Great News)"
No. 8 "Catacombs (Roman Tomb)"
No. 9 "The Hut on Hen's Legs (Baba Yaga)"
No. 10 "The Bogatyr Gates (In the Capital in Kiev)"
---
Sunday May 6 - CONCERT CANCELLED: Coriolis Winds Ensemble - Showcase Trios
Noel Cary, soprano saxophone in Bb and clarinet in Bb
Kenneth Melnick, clarinet in A and Bb
James Kassal, bassoon
Coriolis
Because of the earth's rotation, storms such as Nor'easters spin in a prescribed direction. This phenomenon, called the Coriolis Effect, produces high winds.
This afternoon, you will hear a trio of winds: two high, and one a little lower. Woodwinds, that is.
Featuring soprano saxophone, clarinet, and bassoon, this trio calls itself the Coriolis Winds. It's an unusual combination of instruments, yet also a surprisingly versatile one. In contemporary music, the sax sounds jazzy. But in classical settings, the sax can sound like an oboe. Together, these instruments will sometimes produce quite the perfect storm. But winds can also be gentle, even soothing.  The trio hopes to intrigue you as it explores what's "blowin' in the Winds."
The Artists                       
Noel Cary (saxophone and clarinet) is Professor of European History, College of the Holy Cross, and Artist in Residence, First Unitarian Church. Classically trained on clarinet, Noel also plays klezmer clarinet and jazz saxophone with local bands, most notably with his recent quintet, Blue Champagne. Noel grew up in Northern California, where he was principal clarinet of the UC Davis Repertory Ensemble and performed with Tonight Show trumpeter Doc Severinsen. For fifteen years a member of the Stow Symphony, Noel has also performed with the Concord Orchestra, Trio Cocobolo, and various groups in Germany.
Kenneth Melnick (clarinet) is Associate Professor of Communication Sciences and Disorders, Worcester State University (WSU), and Artist in Residence, First Unitarian Church. Ken is Board Certified in Fluency Disorders, and helps people with stuttering at both WSU and in private practice. Ken has played clarinet since childhood and majored in music performance at the University of Michigan. He formed the MetroWest Quintet in 2016 and is also a member of several other small ensembles.
James Kassal (bassoon), an Artist in Residence at First Unitarian Church, is retired from his career as a scientist, engineer, and inventor. An active freelance musician, Jim has played with several community orchestras in Connecticut, Rhode Island, and Massachusetts. He is presently principal bassoon of the Chamber Orchestra of Barrington and the pit orchestra of the Connecticut Gilbert and Sullivan Society. A chamber music enthusiast, Jim has founded several chamber ensembles over the past twenty years, including his current septet, Amici e Musica.
Program Notes
In this program, we alternate between music from the classical era of Mozart and music from the twentieth century. Much of today's program has a Franco-Swiss influence, and much of it is dance music.  Classical rhythms insinuate themselves by the end into an orgy of syncopation.
Michèl Yost (1754-1786), better known simply as Michèl, was an early Parisian master of a new instrument called the clarinet. Both Michèl and his Swiss-born father were trained by military bands. Achieving fame through his virtuosity and his gentle tone, Michèl soon was giving fashionable concerts and inspiring composers to rewrite their oboe parts for the new instrument. An almost exact contemporary of Mozart (who wrote music for Yost's teacher), Yost himself wrote or co-wrote fourteen clarinet concertos during his short lifetime.
Jean Xavier Lefèvre (1763-1829), a Swiss-born student of Michèl Yost, soon attained a reputation on clarinet that outdid even that of his great teacher.  Like Yost, Lefèvre learned his music in the French Guard, but this time, a revolution intervened, and Lefèvre became the new National Guard's deputy conductor. Lefèvre wrote a clarinet method and added keys to the instrument, improving its virtuosic playability. While Lefèvre's oeuvre was heavily clarinet-oriented, conductor John Eliot Gardiner has suggested that one of Lefèvre's concert hymns may have inspired the final movement of Beethoven's Pastoral Symphony.
Charles Huguenin (1870-1939) was a Swiss violinist and choir master whose compositional style combined modern melodic lyricism with the classic dance patterns of an earlier age. The use of soprano saxophone in today's transcription helps convey this combination: It captures the modernistic edge that marks Huguenin's music, even as it mimics the baroque references and nasal qualities of the oboe. 
Scott Joplin (1868-1917) died relatively unappreciated. By contrast, he stands today at the very pinnacle of American musical composition. When Joplin was a child, Julius Weiss, a classically-trained Jewish-German professor, gave the impoverished boy free music lessons. Decades later, Joplin used a portion of his royalties to aid the ailing Weiss. Joplin's piano rags brought together a covey of genres, from marches and rowdy songs to syncopations and classical forms, to produce something truly new. What never fails to amaze about Joplin is how all of these elements seem to produce, in the end, a lilting and touching bittersweetness.  Joplin's innovations and compositional refinement turned ragtime into both a progenitor of modern jazz and a "serious" classical genre.
Wolfgang Amadeus Mozart (1756-1791) developed an infatuation in the last years of his short life for the clarinet. As a visitor in Paris and a composer for Michèl Yost's teacher, Mozart may well have heard Yost play. What is certain is that Mozart was charmed by the new instrument. Among the resulting masterpieces were the elegant and gentle Clarinet Quintet and the lyrical and satisfying Clarinet Concerto. But as Peter Schickele (whose music is also on today's program) has noted, Mozart was unmoved by the later conceit that separated serious music from "party music." Without a doubt, Mozart's Divertimenti (Diversions) are meant to make you itch to dance.
Claude Debussy (1862-1918), another French master, wrote music whose parallels with the visual art of his time have led to his being dubbed the father of impressionist music. Debussy's rag-influenced and jazz-tinged instrumental colorations and harmonic innovations infused fresh life into classical forms. Whereas "La Fille aux Cheveux de Lin" ("Girl with the Flaxen Hair") is as wistful as a canvas by Edgar Degas, "Golliwog's Cakewalk" is as playful as a painting by the post-impressionist Henri Rousseau.
Professor Peter Schickele (1935- ) is best known as a musical satirist. It was he who "discovered" Bach's long-lost son, P.D.Q. Bach, who lived his life backwards (1807-1742) while writing such legendary works (during "his Soused Period") as the Concerto for Bassoon versus Orchestra and the Erotica Variations. In "real life," Schickele is himself a bassoonist as well as a prolific composer. No surprise, then, that he would write a "serious" but whimsical piece featuring a bassoon accompanied by chirping clarinets. This composition, Schickele has noted, was directly inspired by Mozart's divertimenti. Utilizing popular dance forms such as the tango and the samba, Schickele also employs traditional baroque and classical dance forms, including the gigue and the minuet, which he drives to sprightly extremes. Here, the tango and the samba are quiet and reflective, while the minuet and the gigue feature lively yet disciplined syncopation. Listen throughout for the voice of the bassoon, which is often "doing the legwork"—carrying the trademark rhythm of each dance-form while the clarinets perk away up top.
—Noel Cary