25th Anniversary Celebration
of the Music Ministry of Will Sherwood at First Unitarian Church, Worcester
Directions to 1st U 90 Main St Worcester
T&G Article 4/13/10
---
MEDIA RESOURCES/PRESS KIT:
MEDIA IMAGES FOR PRESS RELEASE
PRESS RELEASE TEXT
INTERVIEW QUESTIONS FOR PRESS WRITERS

8.5x11 PDF POSTER 11x17 PDF POSTER (300DPI) (artwork layers available on request)
---
25 Years at the Helm (and in the chambers) of 1st U's King of Instruments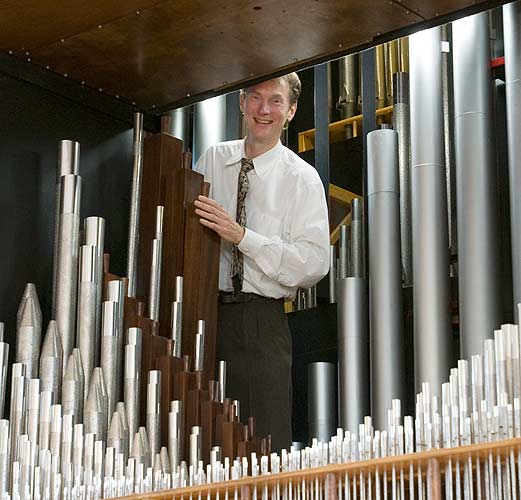 Will Sherwood checks on some pipes in preparation for the celebration.
1st U's 67-rank Aeolian-Skinner pipe organ is one of Central New England's finest instruments,
having been recently completely rebuilt/restored after the 2000 church fire.
First Unitarian was home to Worcester's first pipe organ.
(images for press download link at top of page)
VIEW AEOLIAN-SKINNER PIPE ORGAN INFORMATION
Morning Service at 10:20am
Light Lunch at Noon
Festival Concert at 1:30pm
Details
10:20am Morning Service
1st U Festival Choir, Brian Jones, guest Organist/Director
with
Stanley Wilson, tenor
Becky Spanagel, piano
Peter Struyk, percussion

Toccata & Fugue in F Major BWV 540 J. S. Bach
Hymn: "Give Thanks for Music-making Art" Tune: Chartier (William E. Nierintz, ChM., 1995)(Fanfares, Descants: W. Sherwood)
Why Is There Always Music In This House - Sherwood
This Little Light of Mine - arr. Moses Hogan
The Battle of Jericho - Moses Hogan
Let the People Praise Thee O God - William Mathias
O Fortuna from Carmina Burana - Carl Orff
Final from Symphony 1 - Louis Vierne


1:30pm Festival Concert
1st U Festival Choir, Will Sherwood organist/director; Brett Maguire guest organist

Fantasia & Fugue in g minor (the "Great") BWV 542 - J. S. Bach
Kyrie from Mass Op. 36 - Charles Marie Widor
Fantasie (piano concerto) - Clifford Demarest
Laudes Organi - Zoltan Kodaly
Lo How a Rose - W. Sherwood
Infant Holy, Infant Lowly - W. Sherwood (Alesia Tringale, soprano, Nathan Reich, tenor)
When Field and Woods Agree - W. Sherwood
Love Shall Go Out - W. Sherwood (text by Richard F. Jones)
Prelude & Fugue on the Name of Alain - Maurice Durufle
Hymn: "When In Our Music God Is Glorified" Tune: Engelberg (Fanfares, Cadenza, Descants: W. Sherwood)
To Ensure a More Pleasant Experience for All: No food, drink, or smoking is
permitted in the building. Unauthorized cameras and other recording equipment are prohibited.
Please ensure that your phone, other electronic devices, or watch alarm are all silenced.
An Additional Note to Parents: We appreciate your effort in bringing your
children to hear a live music performance. Out of respect for other audience members and the
performers, we count on you to maintain their quiet and attentive behavior.
Thank you.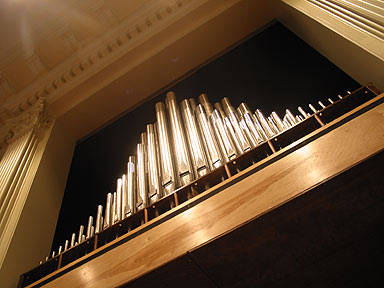 PROGRAM NOTES
---
J.S. BACH, Fantasia and Fugue in g minor, BWV 542
The monumental 542 probably originated as two independent pieces. The fugue is correlated with Bach's Weimar years (1708-1717) and the fantasia to his early time in Cöthen (1717-1723). The marriage of the two movements is a magnificent one, with the Sturm und Drang chromatic tension of the Fantasia finding release in the extroverted and playful dance-like Fugue.

The Fantasia is a superb example of the Baroque fantastic style, in which organists were encouraged to improvise as freely and daringly as the imagination—and the rules of harmony and counterpoint—would allow. In the Fantasia, Bach alternates free sections of recitative-like writing and chromatic chordal progressions with stricter sections of imitative counterpoint, producing an overall A B A B A design. The harmony ranges as far afield as Eb minor, a very unstable key region in Bach's time.
The wide tonal scope of the fantasia has been a subject of fascination for two centuries of musicians: just when some kind of harmonic stability seems to arrive, Bach shoots off on a mock-improvised cadenza that jolts the music into a whole new pitch realm. Thus the fantasia both lives up to its name and contains quite a bit of contrapuntal rigor, and then, on top of that, more than one worthy mind has deemed the fugue to be Bach's ultimate accomplishment in the field of organ counterpoint. The task of selecting a king from that noble crowd, however, is not an enviable one. Though it provides the sense of a stable answer to the fantasia in its predominantly even sixteenth note rhythms, it is similarly ambitious harmonically: Bach makes two revolutions through the entire circle of fifths, without dizzying the listener's tonal center.

The Fugue seems to have been one of Bach's most popular organ pieces, to judge from the fact that it is handed down in numerous manuscript copies. Bach appears to have played it during his visit to Hamburg in 1720, when he auditioned for the organist post at the St. Jacob's Church. Johann Mattheson, a Hamburg-based theorist, later quoted its theme, which is a rich elaboration of the Dutch folksong "Ick ben gegroet." The figural play of the subject sets the tone for the entire piece, which progresses through an extended series of animated expositions and episodes until it reaches its climactic close. The Fugue is one of the most virtuosic organ movements Bach wrote. Indeed, in several manuscripts it is termed "The very best pedal-piece by Mr. Bach."
MAURICE DURUFLÉ, Prelude and Fugue on the Name ALAIN, Op. 7
(born in Louviers, France, 1902; died in Paris, 1986)

Maurice Duruflé went through all the proper academic hoops, having studied in Paris with renowned organists (Tournemire, Gigout, and Dukas) and, beginning in 1920, took courses at the Paris Conservatory. In 1930 he was appointed organist of the church of St. Etienne-du-Mont in Paris, and in 1943 he joined the faculty of the Paris Conservatory. He toured widely as a soloist and gave first performances of the Sixth Organ Symphony by Louis Vierne, with whom he had studied, and Poulenc's Organ Concerto. . His untimely death in 1986 from injuries sustained in an automobile accident caused outpourings of grief from across the organ world.
A highly self-critical composer, Duruflé left a limited catalog of original works (spanning only 26 Opus numbers), and only allowed four organ works to be published in his lifetime. He required frequent and successive revisions of them to be published, implying a lack of satisfaction with even the choicest fruits of his labors. They were written in a musical language that, not surprisingly, was drawn from his countrymen Debussy, Ravel, and Fauré. The Prelude and Fugue on the Name ALAIN, was written in 1942 in homage to Duruflé's colleague, organist and composer Jehan Alain, who was killed by a land mine at the beginning of World War II. The pairing of prelude and fugue, like the toccata and fugue form, has its historical derivation from the Baroque period. And like the toccata, the Baroque prelude is improvisatory, with the fugue its strict corollary.
Duruflé's prelude is comprised of two basic themes, the first taken (with some liberty) from the five letters of the name A-L-A-I-N (in musical nomenclature: since the musical alphabet runs A – H (H is reserved in German notation for B-natural), the literal alphabet continues by repeating the musical alphabet (I=A, etc; L=D, N=F) and the second theme from an organ work by Alain (Litanies). The music of the prelude has two basic elements – a flowing, improvisational energy that is contrasted by a serious expressiveness. The simple five-note cell serves as one of the fugue subjects to an astonishing effect. Duruflé shows his skill as a contrapuntist by cleverly weaving the second fugue subject based on an ornamented version of the countersubject from the first fugue theme. A variety of colors are demanded from the organ throughout the piece from its quietest opening to its brilliant conclusion. Energetic and decisive statements build to the kind of roof-shaking (our insurance is paid up) climax that only a grand organ, such as our 67-rank Aeolian-Skinner, can attain.
ZOLTAN KODALY, Laudes organi
A major 20th century composer and an internationally known music
educator, Zoltan Kodaly was born on December 16, 1882, in the village
of Kecskemet, Hungary. His father was a stationmaster and avid
amateur musician, and his mother sang and played the piano. Kodaly
learned to play the violin as a child. He also sang in a cathedral choir
and wrote music, despite having little formal musical education. In
1900, Kodaly entered the University of Budapest to study modern
languages, also studying music at the Franz Liszt Academy of Music in
Budapest, where Hans Koessler taught him composition.
Keenly interested in Hungarian folk music, Kodaly became one of the
most significant early figures in the field of ethnomusicology. In 1905 he
began visiting remote villages to collect songs, recording them on
phonograph cylinders. He introduced fellow composer Bela Bart6k to
the methods of collecting folk songs, and the two became lifelong
friends, making folk song-collecting expeditions together and
championing each others' music.
After earning his PhD in philosophy and linguistics, Kodaly spent six
months studying in Berlin and Paris, where he was greatly impressed
by the music of Debussy. Returning to Budapest, he was appointed a
Professor of Music Theory at the Academy of Music, and was soon
teaching composition harmony, counterpoint, form and orchestration,
score-reading, vocal polyphony and musical literacy. His students
included Antal Dorati, Eugene Ormandy, Matyas Seiber, and Lajos Bardos.
Kodaly's emergence was delayed by the outbreak of the World War and
subsequent major geopolitical changes, including his involvement in a
socialist Hungarian Republic that lasted for just five months in 1919.
His first major public success was in 1923, when his Psalmus Hungaricus
premiered at a concert to celebrate the fiftieth anniversary of the union
of Buda and Pest. The performance gave him international celebrity.
Kodaly was very interested music education. He and colleague Jeno
A.dam embarked in 1935 on a long-term project to reform music
teaching in the lower and middle schools that resulted in the
publication of several highly influential books. He has had a profound
impact on musical education around the world.
The "Kodaly Method" holds that anyone who can understand language
can understand music, and that singing is the best way to study music.
Music education should begin early, and folk songs from one's own
linguistic heritage are the best vehicle for music education. Only music
of the highest quality should be used for teaching. Music education is
not an extra or frill; it is a core component of education.
Kodaly composed in various genres, including works for the stage and
for orchestra, chamber music, and music for solo instruments, but he
was first and foremost a composer of choral music. He composed
music for chorus and orchestra, chorus and individual instruments, a
cappella music, music for treble voices, music for male choirs, music
for children's choruses, and music for solo voice. He made lasting
contributions to modern Hungarian music, to ethnomusicology, to
music education and to music scholarship.
Laudes organi was Kodaly's last major work, completed on February
24, 1966, just one year before his death at age 84. It was commissioned
by the Atlanta Chapter of the American Guild of Organists for an AGO
National Convention, and the first performance took place in June 1966
in Atlanta. The commission was surely prompted by Kodaly's highly
successful tour of the United States in 1965, which began with a Kodaly
Festival at Dartmouth College. A North American lecture-tour on an
even larger scale followed in 1966.
Laudes organi is subtitled Fantasia on a XII Century Sequence, and is
based on a Latin sequence, or musical phrase, "Audi chorum
organicum" from a 12th century manuscript found in Switzerland's
Engelberg Monastery - a fitting match for today's celebration of our
ChoirMaster and the Music Program and instruments at 1st U.
The work celebrates the organ, the king of
instruments, and the choir which sings with the organ. Kodaly creates
an extraordinary programmatic setting of the text, "painting" each
phrase vividly in musical terms. He pays tribute to the 11th-century
Italian monk, Guido d'Arezzo, creator of modern musical notation. The
work demonstrates the power, tone, and flexibility of the organ,
integrating the chorus in a brilliant and passionate variety of chromatic
passages and moods.
It seems that the organ part was of primary importance for Kodaly in
the composition-as is indeed appropriate for a commission from the
American Guild of Organists. "The choir sings comments to the playing
of the organ ....The thought was given by the old Latin words: listen to
the different possibilities of sound on the organ," the composer
explained in a radio interview in August 1966. Reflecting a great deal of
compositional labor, the organ part is truly impressive, including a
majestic, improvisation-like prelude 68 bars long, in which pedalpoints, free-composition sections, contrapuntal elements and virtuosic passages
evoke the art of the Old Masters.
Laudes organi was one of several possible titles for the work; Kodaly
also considered Ad juvenes musicos ("To the musical youths") and
Adhortatio musicorum ("Exhortation of musicians"), ideas that are
highly characteristic: they could almost represent the artistic program
of his life. They express the message of the "Audi chorum organ icum"
text as well: a good portion of the poem is indeed "adhortatio
musicorum," in particular verses 5 and 6:
Musice milites, te habilites, Usum exercites, artem usites. Habilem
corpore te prebeas, focilem pectore te exhibeas (Musician, strive
and train yourself, Practice regularly, refine your art.)
Katalin Komlos wrote in an essay in the Summer 2007 Musical Times
(parts of which are also excerpted above):
"In many ways, Laudes organi is the summary of Kodaly's life's
work. The choice of text reflects the rare humanist culture of the
composer, who, through the words of the anonymous poet, can
express his credo in the power of music, the importance of
learning and self-improvement, and the service of God through
music. The compositional craftsmanship displays several learned
techniques: imitation, counterpoint, augmentation, diminution,
and various rhetorical devices. In Laudes organi the aged
Zoltan Kodaly, Praeceptor of the Hungarian nation, says farewell
to this world through the spirit of his predecessors."
TEXT TRANSLATION:
Laudes organi (In praise of the organ)
Audi chorum organicum
instrumentum musicum
modernorum artificum
documentum melicum
canentem Iud ere amabiliter
ludentem canere laudabiliter
docens breviter,
leniter uti liter,
dulciter, humiliter.

Ideo persuadeo
hie attend ere
jubeo commoneo
haec apprendere,
mentifi gere humiliter.

Musice! milites
te habilites
Usum exercites
artem usites
habilem corpore
te prebeas
facilem pectore
te exhibeas.

Follibus provideas
bene flautes habeas
Istare praetereas
diligenter caveas
His prae habitis
sonum elice
doctis digitis
modum perfice
neumis placitis.

Gravis chorus succinat
qui sonorus buccinat
vox acute concinat
choro chorus succinat
diafonico modo
et organico.

Nunc acutas moveas
nunc ad graves redeas
modo lyrico
nunc per voces medias
transvolando salias,
saltu melico
manu mobili,
delectabili,
cantabili.

Tali modulo,
mellis aemulo
placens populo;
qui miratur et laetatur
et cantatur et laudatur
Deo sedula
qui regnat in saecula.

Huius artis praeceptori
secum Deus det Guidoni*
Vitam aeternalem.
Fiat, Amen.

Listen to the chorus of the organ -
the musical instrument
of modern artists
a paragon of melody
which plays sweetly
and sings full of praise
which speaks briefly,
friendly and beneficial,
pleasantly modest.

I therefore advise you
to attend here
and bid you to remember
to listen to it
with humble attention.

Musicianl you must behave
like a warrior.
Do the exercises
and practice your art,
show the skill
of your body
and the sensitivity
of your heart.

Look after the wind bellows
that they keep blowing well.
Don't let them stand still,
Watch out diligently.
If you have looked after this
then let the sound blossom:
nimble fingers
play a series of tones
which have a pleasant sound.

The deep choir sounds
and sonorously trumpets,
the high voice sounds against it
choir and counterchoir sound
a diaphonic mode
and with the organ.

Now you play the high ones
now go to the low ones
in lyric mode
now through the middle voices
jump like lightning
a melodious leap
with a smooth hand
pleasing
and tuneful.

Such modulating
sweet as honey
pleases the people
who are surprised and pleased
and sing and praise
and serve God
who rules in eternity.

To the master of this art
may God, to Guido*, grant
eternal life.
So be it, Amen.
*Guido d'Arezzo (ca. 995-1050), Italian monk who created the first official form of
musical notation and named the tones with the syllables, ut, re, mi, fa, sol, la