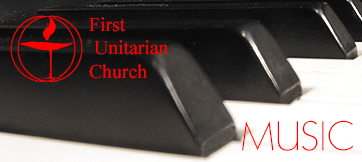 CHRISTMAS FANFARES - Dec 3, 2017

Bios
About First Unitarian Music
Program Notes & Lyrics

Gray: No Room, No Room
Ruth Gray's original Christmas spiritual is an exciting, rhythmic carol that choirs love to sing again and again. The story of the manger in Bethlehem is told through a percussive text motif of "no room," fading at the end as the manger visitors leave.
Ruth Morris Gray (b.1961) is an active music teacher, composer, arranger, choral conductor, and pianist. She is Chair of the Performing Arts Department at Rosemead High School in Rosemead, CA.
No room in the inn no room for the baby born in Bethlehem, no room in the manger bed.
But there was plenty of room when the heavens rang with "Glory to God..."
But there was plenty of room for the wisemen three on bended knee they laid precious gifts before the newborn king.
No room where he could lay his head...
Allain: In the Bleak Midwinter
British born, Richard Allain's (b.1965) works encompass a wide range of styles, including music theatre, sacred choral music, song-writing and works for children. He has been commissioned to write music for BBC and has worked with many of the country's leading choirs and musicians (including King's College, Cambridge and St Paul's Cathedral).
Allain's new setting for In the Bleak Midwinter takes a fresh look at Christina Rossetti's beloved text. Tight harmonies and flowing melodies paint the picture of winter's ingredients using a full pallete of choral resources.
In the bleak mid-winter
Frosty wind made moan;
Earth stood hard as iron,
Water like a stone;
Snow had fallen, snow on snow,
In the bleak mid-winter Long ago.

Our God, heaven cannot hold Him
Nor earth sustain,
Heaven and earth shall flee away
When He comes to reign:
In the bleak mid-winter
A stable-place sufficed
The Lord God Almighty —
Jesus Christ.

Angels and Archangels
May have gathered there,
Cherubim and seraphim
Thronged the air;
But only His Mother
In her maiden bliss
Worshipped the Beloved
With a kiss.

What can I give Him,
Poor as I am? —
If I were a Shepherd
I would bring a lamb;
If I were a Wise Man
I would do my part, —
Yet what I can I give Him, —
Give my heart.
Todd: My Lord Has Come
Will Todd (b.1970) is a British composer and jazz pianist, best known for combining jazz and blues with traditional choral music. He was awarded a scholarship by the Stanley Picker Trust to study music at the University of Bristol where he went on to receive a 'Highly Commended' MMus. He is an accomplished jazz pianist and workshop leader.
My Lord Has Come, written in 2010, is a heartfelt setting of words by the composer begins with a pianissimo drone over which a soprano solo introduces the expressive melody. With lush harmonies, moments of dynamic intensity, and an overriding sense of awe & anticipation, My Lord is a demonstration of how a 21st century composer can respond to the Christmas story in a way which respects tradition whilst sounding totally fresh.
Shepherds, called by angels, called by love and angels:
No place for them but a stable. My Lord has come.
Sages, searching for stars, searching for love in heaven;
No place for them but a stable. My Lord has come.
His love will hold me, his love will cherish me, love will cradle me.
Lead me, lead me to see him, sages and shepherds and angels;
No place for me but a stable. My Lord has come.
Lauridsen: O Magnum Mysterium
Morton Lauridsen (b. 1943) is an American composer, principally of choral music.  He is best known for his setting of O Magnum Mysterium.  He is a 3-time Grammy nominee and was composer in residence for the Los Angeles Masters Chorale (which premiered O Magnum Mysterium) from 1994-2001.  He has been a professor of composition at USC-Thornton, where is currently Distinguished Professor of Composition, for more than three decades.
O Magnum Mysterium has received thousands of performances and at least 100 professional recordings since its 1994 premiere, making it one of the most performed compositions of the last 20 years in its original setting.  Lauridsen writes:
For centuries, composers have been inspired by the beautiful O Magnum Mysterium text with its depiction of the birth of the new-born King amongst the lowly animals and shepherds.  This affirmation of God's grace to the meek is celebrated in this setting through a quiet song of profound inner joy.
O magnum mysterium, et admirabile sacramentum, ut animalia viderent Dominum natum, iacentem in praesepio!
Beata Virgo, cujus viscera meruerunt portare Dominum Iesum Christum. Alleluia!
Rutti: I Wonder As I Wander
Swiss born Carl Rütti studied music at the Zürich Conservatoire, finishing in 1975 with a Solisten-diploma in piano and organ. He has composed a steady output of largely religious choral works, and his music blends the English choral tradition with other genres including jazz and the blues. His works have been performed all over the world. He teaches piano at Zürich Conservatoire, and gives concerts as a pianist and organist.
While we are most familiar with John Jacob Niles' original setting, Rutti launches a new approach, with new rhythmic energies and melodies to reveal the excitement of exploring the mysteries of the Christmas season.
I wonder as I wander out under the sky How Jesus in a manger did come from on high
For poor on'ry (ordinary) people like you and like I.
When Mary birthed Jesus 'twas in a cow's stall with three wise men and farmers and shepherds and all
But high from the heavens a star's light did fall and promise of ages it then did recall.
If Jesus had wanted for any wee things, a start in thesky, or a bird on the wing,
or all of God's angels in heaven for to sing, he surely could have had it 'cause he was the King.

Sowerby: Manger Carol
American composer Leo Sowerby(1895-1968) was one of the most distinguished figures in sacred music in and among only a few modern composers to specialize in sacred music. He composed for choir and organ and orchestra, and had a wide range of styles and treatments. We know him especially in Worcester because the late Ron Stalford (for many years organist/director at All Saints Church) was chosen by Sowerby to be the executor of his estate and to manage his library of compositions.
The 13th Century French carol is presented with a delicate, dreamy backdrop for the story of the manger in Bethlehem. With a style that we might call today "new-age," Sowerby paints a floating texture of slowly evolving juxtaposed harmonies taken from the jazz idiom. In today's performance, we use
Jeffrey Smith's choral arrangement and added cello counter-melodies and percussive accents to augment Sowerby's original organ accompaniment.
Here betwixt ass and oxen mild, Sleep my little child.
Angels from on high hover in the sky keeping watch above the incarnate God of Love.
Hogan: Glory to the Newborn King
A graduate of both Oberlin and Juilliard, Moses George Hogan was an American composer and arranger of choral music. He was best known for his inspired settings of African-American spirituals. Hogan was a pianist, conductor, and arranger of international renown.
With sweeping dynamic shifts, Hogan takes the classic spiritual Go Tell It on the Mountain and creates an unforgettable choral work that captures the spirit of Chistmas with rhythmic layering and intensity.
What will we call that pretty little baby? Baby born in Bethlehem. Christ the Lord the newborn King.
Down in a lowly manger, born this night the Son of Mary, Hail the heav'n-born Prince of Peace.
Go tell it on the mountain, Lord, over the hills and everywhere that Jesus Christ is born.
Rutter: What Sweeter Music
It is difficult if not impossible to escape the music of John Rutter (b.1945) during the Christmas season. With more than two dozen carols published and translated into multiple languages, he is as synonymous with Christmas as Charles Dickens and mince pies. Known for music that is tuneful, accessible and memorable, he has been called "a hero for harmony" and the "Christmas Carol King."
"What Sweeter Music" is Rutter's 1988 setting of the poem, "A Christmas Carol, Sung to the King in the Presence at White-Hall," by the Anglican parson and poet, Robert Herrick (1591–1674). The text is unusual for a Christmas carol in that Herrick invokes a spring allegory, rather than winter. With expansive, arcing melodic lines, lush vocal textures and surprising yet satisfying harmonic modulations, "What Sweeter Music" exemplifies John Rutter's synthesis of words and music at its best. We use Rutter's original orchestration for strings.
What sweeter music can we bring Than a carol, for to sing
The birth of this our heavenly King? Awake the voice!
Awake the string! Dark and dull night, fly hence away,
And give the honor to this day, That sees December turned to May.
That sees December turned to May. Why does the chilling winter's morn
Smile, like a field beset with corn? Or smell like a meadow newly-shorn,
Thus, on the sudden? Come and see The cause, why things thus fragrant be:
'Tis He is born, whose quickening birth Gives life and luster, public mirth,
To heaven, and the under-earth. We see him come, and know him ours,
Who, with his sunshine and his showers, Turns all the patient ground to flowers.
Turns all the patient ground to flowers. The darling of the world is come,
And fit it is, we find a room To welcome him. To welcome him.
The nobler part Of all the house here, is the heart. Which we will give him;
and bequeath This holly, and this ivy wreath, To do him honour, who's our King,
And Lord of all this revelling. What sweeter music can we bring,
Than a carol for to sing The birth of this our heavenly King?
Schalk: Before the Marvel
Dr. Carl Flentge Schalk (b.1929) is a noted Lutheran composer, author, and lecturer. Between 1965 and 2004 he taught church music at Concordia University Chicago.
Such beauty of American hymnist & Lutheran pastor Jaroslav Vajda's text is matched only by the breath-taking clarity and virtue of the choral writing of Carl Schalk. We perform it today with Schalk's original orchestration for strings and winds.
Before the marvel of this night, adoring, fold your wings and bow,
Then tear the sky apart with light, and with your news the world endow.
Proclaim the birth of Christ and peace, that fear and death and sorrow cease:
Sing peace, sing peace, sing gift of peace, sing peace, sing gift of peace!

Awake the sleeping world with song, this is the day the Lord has made.
Assemble here, celestial throng, in royal splendor come arrayed.
Give earth a glimpse of heav'nly bliss, a teasing taste of what they miss:
Sing bliss, sing bliss, sing endless bliss, sing bliss, sing endless bliss!

The love that we have always known, our constant joy and endless light,
Now to the loveless world be shown, now break upon its deathly night.
Into one song compress the love that rules our universe above:
Sing love, sing love, sing God is love, sing love, sing God is love!
---
John Rutter: Gloria
The English composer John Rutter has become a veritable icon of contemporary choral music. His association with Clare College, Cambridge, first as a student, then as Director of Music, and later, as the organizer of the much-recorded Cambridge Singers, has led to international recognition.
Gloria is one of Rutter's most ambitious concert works, and its premiere was the occasion for his first visit to the US, in May, 1974. The Voices of Mel Olson commissioned the work, and the composer conducted the performance by that chorale in its Omaha NE home. Rutter himself sees this work as analogous to a symphony, with three movements— allegro vivace, andante, vivace e ritmico--i.e., fast, slow, fast, in common with symphonic practice, and, says Rutter, " exalted, devotional and jubilant by turns". Gloria represents the second section of the Ordinary, the fixed-form portion of the Latin mass, i.e., the section following the Kyrie, and the introit, when the latter is used.
Many composers have set this text as an independent work. The practice of subdividing sections of the mass, such as the Gloria and the Credo, into separate movements dates from the time of Bach, who employed it in the B-Minor Mass, but it was popularized by early 18th-century composers. Rutter based his setting on one of many Gregorian chants which utilized this text. The original accompaniment is for brass ensemble with timpani, percussion and organ (we use full orchestra today) - a combination which in the outer movements makes quite a joyful noise to celebrate the season, but which is used more softly and introspectively in the middle movement.