First U Choir Recipe Repository - Our Favorites
Desserts are most important, thus they appear first!
Additional recipes for Green Christmas
---
Chocolate Lava Cake
"Budino" means pudding in Italian, but these are more like little molten cakes, moist and almost gooey in the middle if served warm from the oven. For a more molten effect,bake a shorter amount of time, expecting that the center will continue to cook/firm-up a fewminutes after you remove it from the oven.
1 pound high-quality bittersweet chocolate
¾ pound butter (3 sticks), well softened
1 cup sugar
3 tablespoons flour
5 whole eggs plus 3 egg yolks
Preheat the oven to 350° F.
Grease or spray two 12-cup muffin tins with vegetable or canola oil. (You can also use just one tin and bake the batter in two batches.)
---
Chocolate Zucchini Cake
1 stick plus 1 T butter*
2 c. sugar
3 eggs
2 squares unsweetened chocolate, melted**
2 tsp. vanilla
2 tsp. orange rind
½ c. milk
2 c shredded zucchini
2 ½ c. flour
2 ½ tsp. baking powder
1 ½ tsp. baking soda
1 tsp. salt
1 tsp. cinnamon
Grease and flour a 10-inch tube or Bundt pan. Cream together butter and sugar. Add eggs and remaining wet ingredients and mix well. Mix dry ingredients together, and combine with wet ingredients. Pour into prepared pan and bake at 350F for 1 hour. Cool cake before removing from pan. Sprinkle top with powdered sugar if desired.
*7 T canola or other vegetable oil may be used in place of butter.
**This cake is delicious with 2 oz. of Equal Exchange Fair Trade Organic Baking Cocoa as well. (Shameless plug!)

---
Marinated Goat Cheese
2 5oz. logs of plain goat cheese
1 4 or 5 inch sprig of fresh rosemary
2 TBS (roughly) sliced lemon zest
4– 5 cloves of garlic
freshly ground pepper
salt
½ cup good quality olive oil
Peel four or five strips of lemon peel (use a good vegetable peeler) from a healthy, medium sized lemon, avoiding as much of the white pith as possible. Slice the strips into very fine "sticks" and then cut them into ½ inch bits. Put half of these in the bottom of dish you will use and save the rest to sprinkle over the cheese.
Pound the garlic in a mortar and pestle with salt and freshly ground pepper. (It is best to do this by hand – not in a food processor) Make a nice paste and add about 1 TBS of finely chopped rosemary leaves. Incorporate about 1 TBS of olive oil to thin the paste a bit. Slather this on all sides of the goat cheese. Place the prepared cheese on the lemon zest strips and sprinkle the reserved lemon strips on top. Pour olive oil over it all – generously! Add another sprig or two of rosemary alongside the cheese – for decoration and to add flavor. Serve with any crackers – toasted pita bread goes well.
It is best to prepare this at least four hours before serving, to give all the flavors time to blend. It can be kept in the fridge for a couple of days, (turning the logs occasionally) but be sure to bring it to room temperature well before serving. Add more olive oil as needed. Also – local fresh goat cheese (such as Capri from Hubbardston) is less bitter than the more "mature" imported varieties, and not as hard, so the flavors blend more thoroughly.
---
Kale & Beets with Rice
5 cups vegetable stock
1 cup minced onions
2-3 teaspoons of oil
1.5 cups brown rice
3 cups peeled and cubed yellow and orange beets
3 cups stemmed and chopped Kale , packed ( ½ pound before stemming)
1/8 teaspoon nutmeg
1 teaspoon freshly grated lemon peel
Salt and pepper to taste
1/4cup parmesan cheese
Cook the rice in the vegetable stock as directed on package. Do not overcook. Drain, fluff and set aside.
Sauté the onions in 2 teaspoons of oil about 5 minutes. Add more oil if necessary.
Add two cups of the stock and the beets and simmer covered until beets are tender. Add the kale, stir and simmer covered until the kale is wilted.
Add the nutmeg, lemon peel and salt and pepper.
Add the cooked rice, stir in the cheese and serve immediately.
---
Sumi Salad
1 head cabbage, chopped (regular cabbage or Savoy)
8 green onions, chopped (scallions)
8 T slivered almonds
8 T sesame seeds
2 packages Top Ramen noodles (uncooked) (can crush while still in packet, sans flavor packets)
DO NOT USE FLAVOR PACKETS!
Mix onions and cabbage in a large bowl. Brown sesame seeds and almonds in a little oil. Just before serving (else they will become soggy, and one of the distinctive features of this recipe is its texture), add almonds, sesame seeds and crushed up Ramen noodles to cabbage. (In fact, the almonds and noodles can be added after the dressing). At very last, add dressing:
4 T sugar
1 tsp. salt
1 tsp. pepper
1 cup salad oil (I use canola)
6 T rice vinegar
Mix together well. Can be made ahead and refrigerated.
Options: (This is a very versatile recipe base that you can freely experiment with)
To lower the fat content, I reduce the amount of oil in the dressing to ¾ cup. I also toast the sesame seeds and almonds without oil in a Teflon skillet.
Substitute maple syrup instead of sugar
Add shredded carrots along with the cabbage for color
---
Cold Spicy Eggplant
2 medium eggplant
3 T light soy sauce
2 T red wine vinegar
2 T sugar
¼ tsp. salt
1 ½ tsp. dry sherry
1 T sesame oil
1 T chopped garlic
1 T chopped fresh ginger
1 T white sesame seeds, toasted
Steam, bake, or broil eggplant until it is in collapsed condition and tender to core. Cool. Remove skin. Shred eggplant and set aside.
Combine remaining ingredients except for oil, garlic, ginger, and sesame seeds. Stir fry garlic and ginger in sesame oil, and add above liquid mixture. Bring to a boil. Pour over warm, shredded eggplant. Mix well. Add toasted sesame seeds. Serve at room temperature.

---
Peanut Soup
2 Tablespoons olive or vegetable oil
2 medium onions (chopped into whatever size you like)
2 large bell peppers- a combination of green and/or colored, (chopped as above)
4 cloves garlic, pressed or crushed
8 or so med plump summer tomatoes with skin steamed off, diced, and juice reserved (or 1 28-ounce can of diced tomatoes, juice reserved) NOTE: Using the canned tomatoes works just as well. And you can get decent, even organic, canned tomatoes these days. This is an especially good option for winter.
10 cups homemade or store bought vegetable stock
1/2 teaspoon black pepper, coarsely ground
1/2 teaspoon dried, crushed red chili peppers
1/2 cup raw brown rice
1 cup creamy natural (no sugar added) peanut butter
Optional Garnish: crushed peanuts
Chop the onions and peppers (or I just throw them all in food processor for a very fine chop) and garlic. In a large soup pot, heat the oil, then sauté the onions, peppers, and garlic until they begin to brown. Cut in the tomatoes (drained of juice) and cook over medium high heat for about 10 minutes, stirring from time to time, until they cook down. Pour in the reserved tomato juice and the stock. Add the black pepper and crushed red chili peppers. Bring to a boil, add the rice, then reduce heat and simmer, partially covered, for 45 minutes.
When ready to serve, stir in the peanut butter until it melts and the broth is smooth. Reheat to a simmer, then ladle into bowls and sprinkle with crushed peanuts if desired. Its also good with a crusty bread (and filling enough to be an entrée soup).
This soup freezes and reheats well.
Enjoy!
Christy
---
WHITE GAZPACHO
3 medium-to-large cucumbers, peeled, seeded and cut into chunks
3 cups chicken broth, without fat
3 cups sour cream (or yogurt) [I use half low-fat sour cream and half yogurt.]
3 tablespoons vinegar
1 or 2 teaspoons salt (to taste)
1 or 2 cloves garlic, crushed
2 tomatoes, chopped (or more, as you wish)
1/4 cup toasted slivered almonds
½ cup sliced green onions
½ cup chopped parsley
Whirl cucumber in blender a short time with 1 ½ cups chicken broth.
Combine with remaining chicken broth, sour cream, vinegar, salt and garlic in a bowl.
Stir just enough to mix. Chill.
Sprinkle tomatoes, almonds, onions and parsley on top. Serve in soup bowls.
Makes 6-8 large servings.
---
Baked Artichoke Dip
Makes 2 cups
Submitted by: Helen Campbell
Ingredients:
1 can or jar of non-marinated artichoke hearts (14 oz.), drained
4 large cloves garlic, minced
½ cup plus 2 tbs. finely grated Parmesan or Romano cheese
1 tbs. lemon juice
¼ cup mayonnaise
¼ cup cream cheese, softened
2 tbs. bread crumbs
Chips, crackers or raw veggies for dipping.
Finely chop artichoke hearts or run through a food processor along with the garlic. Combine the ½ cup of cheese, lemon juice, mayonnaise and cream cheese. Mix well with the artichoke-garlic mixture. Put mixture into a 1-quart casserole dish. Sprinkle the top with bread crumbs and the remaining cheese. Bake 20 minutes at 375 degrees until bubbly.
Serve warm or cold with chips, crackers or veggies.
Artichoke lovers go for this in a big way!
---
POTATO BEET SALAD
Add a splash of color to you meal with this gorgeous fuschia salad.
The beets take about 40 minutes to cook, so there's plenty of time to prepare the rest of the vegetables and the dill while the beets simmer.
4 medium beets, scrubbed and leaf stems trimmed to 1 inch
5 potatoes, peeled and cubed
1 cup minced red onions or scallions
1 cup nonfat yogurt
1/2 cup chopped fresh dill
2 teaspoons cider vinegar
2 teaspoons prepared horseradish
1 teaspoon sugar (optional)
salt and ground black pepper to taste
In a covered pot, boil the beets in plenty of water until tender, 40 to 60 minutes. Meanwhile, in a separate pot, boil the potatoes in lightly salted water for about 20 minutes, just until soft. Drain the potatoes and set aside to cool. When the beets are easily pierced with a sharp knife drain them and plunge them in cold water. When they have cooled enough to handle, peel (see Note) and chop them into bite-sized pieces. In a serving bowl, mix together the beets, potatoes, red onions or scallions, yogurt, dill, vinegar, pickles, and, if using, the horseradish and sugar. Add salt and pepper to taste and chill for at least 30 minutes.
Preparation time:
40 to 60 minutes (some beets cook faster)
Chilling time:
30 minutes

---
Cheese Souffle Bread
Prepare the dough days ahead if you like (keep refrigerated, covered in plastic wrap), and pop in the oven 45 minutes prior to guests arriving. Schedule a workout at the gym the following day!
1 C Water
1 Stick Butter (unsalted if possible)
1/2 tsp Salt
In a saucepan, collect the above ingredients and raise to a boil (or hot enough to melt the butter completely). When the butter is melted, take off the burner and stir in vigorously with a whisk (you're done with the burner):
1 C Flour (any type except self-rising!)
Once fully incorporated, resist from tasting the dough. Stir in vigorously (so that you do not scramble/cook them):
4 whole eggs (any size)
Then fold in:
1 lb Gruyère (or Parmesan or Emerile is fine or Swiss if nothing else is available) cubed (to about 1 cm cubed chunks; shape is unimportant- it all melts); 12-16 oz is sufficient, whatever is packaged conveniently (a few ounces may disappear mysteriously as you chop it up )
Bake 30-45 minutes in 425 degree oven, if not golden brown on top, you can broil for 2-3 minutes to increase the drama quotient.
It will deflate quickly but that's okay. Cut and serve warm.

Base recipe without the cheese can be used with chocolate chips and other sweets for a dessert or snack.
---
Pear Bread
3 cups all-purpose flour
1/4 teaspoon baking powder
1 teaspoon soda
1 teaspoon salt
1 tablespoon cinnamon
3/4 cup vegetable oil
3 eggs
2 cups sugar
2 cups peeled, grated pears
1 cup chopped pecans (optional)
2 teaspoons vanilla
Combine flour, baking powder, soda, salt and cinnamon in a large bowl. Make a well in the center of the flour mixture. Into the well add oil, eggs, sugar, grated pears, pecans and vanilla, stirring only until moistened. Grease and flour 2 8-by-5 loaf pans. Line bottoms with wax paper. Spoon batter into pans, dividing it evenly. Bake at 325 degrees 1 ¼ hours or until done. Cool before removing from pans. Recipe works with apples substituted for pears, according to mom.
---
Pumpkin Bread
Dump into large bowl and mix well:
3 cups sugar (I use half white sugar and half brown sugar)
1 cup salad oil (I go low fat and use half apple sauce)
4 eggs (I usually use egg beaters)
2 tsp. Cinnamon
1 ½ tsp nutmeg
½ tsp cloves (optional: but I like this intense flavor)
¼ tsp ginger (optional)
1 ¼ tsp salt
3 tsp baking soda
2 cups (1 can) pumpkin (I use fresh that I cut out and cook in water)
2/3 cup water (I use if using canned pumpkin, but if fresh stewed pumpkin, then I use the juice from steaming it)
2/3 cup raisins (I like to use cranberries, fresh or dried)
2/3 cup nuts (optional)
As you can see I am a flexible cook! Sometimes I add chopped apple, or I may add blueberries, a favorite change up, or cranberries either dried or fresh! I have learned you can really play with this recipe! Put mixture into greased and floured loaf pans (2 large or 3 smaller), or into a bundt pan. Bake 350 for about an hour. Great served warm with cream cheese. Keeps well in freezer.
---
Grandma's Cheese Torte
Filling
2 pgs. Unsweetened Gelatin (2T) (or agar agar)
½ Cup Cold Water
½ teaspoon Salt (½ = one-half)
2 Egg Yolks
½ Cup Milk
1 Cup Sugar
1 Pound Baker's Cheese (may substitute Farmers' cheese)
½ teaspoon Vanilla
1 Pint Whipping Cream
1 Egg Whites
Graham Cracker Crust
1 Graham Crackers (2 packages)
1/3 Cup Sugar
1t Cinnamon
½ Cup Butter (1 Stick)
Method
Mix gelatin and cold water in large bowl and set aside.
Mix egg yolks with milk in saucepan. Mix in salt and sugar. Cook on medium heat, stirring constantly just until it comes to a boil. The custard will become opaque and creamy. Add to gelatin mixture, and chill in the refrigerator; however, make sure not to chill too long (basically get back to room temp but don't let it firm up).
Then, Make crust: Add melted butter to crushed grahams and cinnamon/sugar. If crust won't stick together, add more melted butter. Butter bottom and sides of springform pan, or 8 X 13 pan, then coat with graham mixture. Reserve some of mixture for topping.
Whip cream (stiff peaks), set aside.
Whip egg whites, set aside.
Add cheese and vanilla into gelatin mixture, and beat until smooth. Fold whipped cream and egg whites into gelatin mixture.
Pour into prepared pan, cover with remaining crumbs, and refrigerate until set, or overnight if possible.
---
Blueberry-Lemon Pudding Cake serves 6
¼ cup flour (whole wheat is good) 1 ½ t. grated lemon rind
2/3 c. sugar ¼ c. lemon juice
1/8 t. salt 2 eggs, separated
1/8 t. nutmeg 1/4 c. sugar
1 c. buttermilk 1 ½ c. blueberries
Preheat oven to 350. combine first 4 ingredients(through nutmeg) in a large bowl. Add buttermilk, lemon juice and rind, and egg yolks, stirring with a whisk until smooth.
Beat egg whites at high speed until foamy.
Add ¼ cup of sugar, 1 tbsp. At a time, beating until stiff. Gently stir ¼ of egg whites into buttermilk mixture and then fold in rest of the whites. Fold in blueberries.(May use blackberries or raspberries.)
Pour batter into 8" square pan coated with cooking spray. Place in larger pan; add hot water to depth of 1" in outer pan. Bake 35-45 minutes at 350.
---
Chunky Vegetable Dip/Spread
- Yummie says the director!!
One can of organic garbanzo beans, drained, rinsed and set aside to dry out a bit.
Chopped Vidalia onion, celery, and red bell pepper in approx equal parts.
Combined the veggies with the garbanzo beans.
Added Nayonaise (grape seed oil based no dairy) and some Greek yogurt to dress it up.
Fresh lemon juice to add zip.
Freshly ground salt and pepper to taste.
Variations:
Substitute sweet pickle relish for the celery.
Substitute green bell pepper for the red bell pepper.
Use Sour cream instead of Greek yogurt.
Add cayenne pepper and/or garlic powder to perk it up!
Serve in a bowl with a spoon or wide knife for spreading; serve on top of breads, crackers, or TJ's raisin-rosemary crackers (double yum!)
---
Gazpacho Extraordinaire-
recipe can be halved or otherwise re-proportioned - exact proportions are not critical
Base Liquid Soup (can also be used warm as rich tomato soup!) - can be frozen
2 48oz. jugs of tomato juice (Campbell's won over house brand in our taste test, but not critical) - a total of about 10 cups
Optional: 1 can 6oz. tomato paste (2 cans/12 oz. for extra luxurious)
4-12 garlic cloves to taste -- yum!
2/3 to 1 C sherry or red wine vinegar
Optional: 1-2 yellow or sweet onions, caramelized (sautéed), then pureed (pour in a little tomato juice to help the puree process) - other recipes use raw shallots or onions - we found the texture and flavor too interruptive. The pureed cooked onions added thickness to the liquid basis.
Optional (we found it was not needed): juice of 1 lemon (no seeds)
Optional (but highly recommended): 1/2 C honey
Salt and pepper to taste.
1 hour to 2 days prior to serving prepare and add the following diced (1/4-1/2" cubes, varying sizes are nice) (Note: everything can be prepared all in one day):
6 +/- ripe medium tomatoes (beefsteak are recommended, but use what you have access to, this is not critical) Seeds removed (ribs/veins are okay, as are skins) (*)
4-6 cucumbers (*), seeds removed (used a spoon to scoop out - thumb in inside of spoon, fingers curled around handle). Peel all but one - leave one with skin for visual and mouth feel interest. Chop into cubes, or for textural and visual interest, leave some in small strips (maybe 1" long). Random is better.
4 bell (sweet) peppers, red and/or yellow (for visual interest)
Optional: cubed or small (1") strips of carrots, slightly par-boiled in the microwave for 2 minutes. We found raw carrots to be too crunchy and thus interrupted the texture flow. Slightly cooking them softened their texture to help blend better with the other chunky vegetables. We used 4 medium/large carrots.
(*) for cukes and tomatoes, we suggest lightly salting and putting in a colander or sieve to drain to extract liquid. (Even slight pressure to expel more liquid) The goal is a thicker gazpacho result. Additionally, after the completed soup sits overnight (if you so choose), puddles of thin juice will separate - we found that ladling/pouring out the thin juice helped increase the overall thickness and dining pleasure. We liked chunky and thick!
Serving suggestion:
Chill serving bowls
Add a dollop of sour cream, pure mascarpone (not cut with egg whites), goat cheese (unflavored), or Boursin® cheese.
Add a garnish of basil sprigs/blooms
Add a small pile of croutons - see adjacent easy crouton recipe/technique
Add an edible flower such as nasturtium, marigold, daylily (stella d'oro is great), or calendula
An artistic creation for both the eye and palette awaits you and your guests.
---
Efficient but Yummie Croutons
There are two somewhat unusual tricks for this approach to homemade croutons: pre-toasting, and pre-scoring the bread.
We typically freeze homemade bread leftover half loaves, but croutons can be made from almost any hearty bread. The coarser the texture the better. Tip: the larger the texture, the larger the cubes need to be in order to avoid crumbling.
Score the bread prior to toasting. We've found that scoring in one direction on one side while turning over to score in the perpendicular direction on the other side works best. Cut into the bread with a serrated knife, leaving about 1/8" (depends on the texture/coarseness of your bread) uncut to connect the bread still as an intact slice.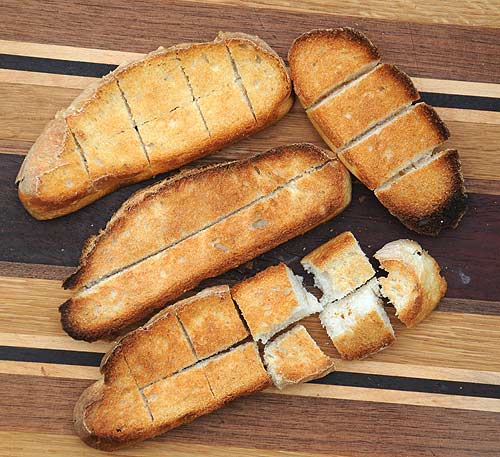 Scoring (partial slicing) bread slices prior to toasting. Upper left is scored both on one side; middle slice and r.h. slice are scored long-ways on one side, vice-versa; the bottom piece after toasting easily separates into cubes. (If you try to toast a slice of bread first and then cube it afterwards, it's far more likely to crumble, with little left that resembles a cube shape)
With the bread slices still intact, you can easily toast them, preferrably horizontally in a toaster oven. This will accomplish 90% of the toasting process without having to continually monitor/stir in a skillet/sautee pan.
Once toasted, then it's an easy matter to break apart the cubes. Then dump into a skillet or saute pan, on medium (high will risk burning).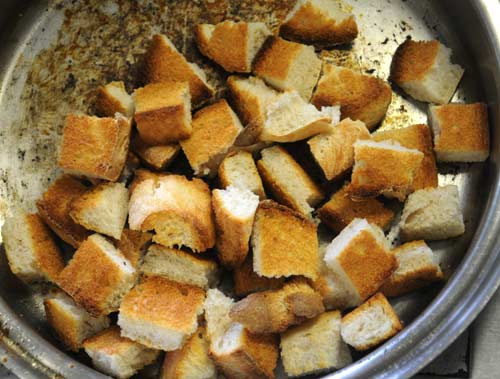 Pour on the EVOO, and freshly ground black pepper and salt, and garlic powder. Stir, and probably add some more EVOO.
By pre-toasting, the length of time you have to pay attention to the skillet is dimished, and thus the risk of burning is lessened.
Toasting from scratch in the skillet seems to take forever, and the constant turning of the cubes tends to make them crumble more.
Let cool before you cover. Or, no need to cover - these will keep crisp for a few hours, even if it's raining outside.
Warning: if you prepare croutons much ahead of time, there's a great risk they will not last (due to hungry fingers!)
---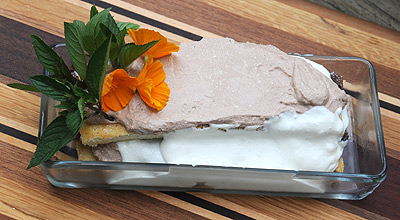 Tira Misu garnished with California Poppies and Chocolate Mint - alternating layers of espresso-doused vanilla & chocolate sponge cake layers and vanilla & mocha mascarpone
Tira Misu ("pick me up" in Italian) can be a long process to bake and assemble. We simplified by (1) pre-baking and freezing our favorite recipe for sponge cake. Super simplified by baking sheet cakes on a cookie sheet instead of "lady fingers" (once it's assembled, the thrill of lady fingers is occluded with the toppings). We doubled the recipe since we were freezing-ahead for multiple uses. Prior to combining with the whipped eggwhites, we took half the batter and added powdered cocoa to make some of the layers chocolate. Recommended also is to add coffee flavor! For easier logistics in thawing, we separated the sheets with parchment paper (wax paper will do, but is made from petroleum products and is not compostable) and sprinkled generously with powdered sugar for ease of peeling away the separators.
For mascarpone filling/"icing", making your own is easy - you just need two key ingredients for your quart of light cream: tartaric acid (or other coagulant) and cheesecloth. The goal is to get as much liquid out of the cheese so that it won't sag (like the white middle layer pictured above). When it's too wet, the cake layers slide around and the middle layer filling drains to the edges/bottom. To repair cheese that's too drippy in an emergency, use absorbent paper towels (many layers) to absorb the moisture. The cheesecloth draining is best done placed in a strainer in a catch-bowl all in the refrigerator overnight. Make sure to empty the bowl so the draining is efficient. Commercial mascarpone is usually cut with eggwhites, stabilizers, and preservatives.
Bread recipe analysis/variations
---
Easy Granola - Basic oat recipe, add what you like

SMALLER/SIMPLE BATCH
oats 4C
3 oz oil
1.5-2 oz maple
1 tsp (?) salt

TIP: to "size" how much your pans (and oven) can hold, measure and pour (raw ingredient before mixing) rolled oats
into your pan(s) to see how much will fill to about 1/2" thick.

BIG BATCH:
rolled oats (we buy by the 50 lb bag!) 24 C
oil (we use canola; no longer coconut due to news stories of late) 12-16 oz
maple syrup ($11/quart at costco) 8-12 oz (depending on how sweet you like it)


OPTIONAL
salt (we always use it, but you don't have to)
fruit juices (we particularly like mango nectar – Bolthouse) up to 20 oz (if more, it gets toooo wet) - warning: these add sweetness so consider backing off on maple syrup until you taste the raw "batter."
seeds/nuts etc (we've simplified and just like it plain; others put all sorts of nuts/seeds, which we like for trail mix munching)
craisins/dried cherries/chopped dried apricots (good, but too much trouble to chop!)
applesauce
Note: the basic ingredient mix makes excellent "loose" granola. If you want the finished product to stick together in clumps, do add applesauce or other binders, and press into pan before baking to create a solid/dense mass in the pan (we use a large spatula or other flat-bottom-surfaced pan/dish/measuring cup.

PROCESS:
we pre mix the liquids (+ salt) separately with a whisk to get a consistent/emulsion/distributed
then dump in and stir until oats are coated. for good results to get somewhat evenly coated/thoroughly moist.
you can taste the oats at this point to see about sweetness and salt. I have added more maple syrup at this point and just stirred well and it's fine.

spread out on baking sheet or whatever pan (we oil the surface for easier ejection after baking)
our big batches use 5 "half sheets" 13x18 (which is half size of a commercial pan- it fills the width of our oven) it's about ½" thick when spread out (or thinner is fine)
we used to stir it every half hour, but nowadays just leave it
our new ovens work best at 250 degr for about two hours, but sometimes I 'll do an extension for another hour until it starts to brown SLIGHTLY (it's hard to tell the difference btwn uncooked and baked color) sometimes if it's stubborn I'll do 275. the risk is burning it without that nice brown doneness. the browning/baking does affect the flavor.
in any case, I leave in the oven turned off (we have to turn off the breaker to prevent our "smart oven" from cooling down!) (we want teh temperature just to coast as-is) to make it more crispy (evaporate more of the moisture) – usually overnight or until whenever we get energy to extract it from the pans into the canisters (and then vacuum the floor from the particles that fall out)
We made a large funnel out of a protein powder cannister, cutting off and using the top portion, inverted (opening of 12" down to 4") and it fits into our granola storage cannisters very well for filling from the pans.

all that is TOO MUCH EXPLANATION for being really simple: just throw it all together and bake.
---
Blaine's Bread & Butter Pickles
This is a very easy recipe. As of this writing, I haven't done this with anything other than cucumbers. I would play with the spices with other vegetables because that is how I do things.
I have found that being too loose with the measurements can really mess things up. Just this year I was reminded of this. I made three different batches and found one too sweet, one too vinegar, and one absolutely the best I have done in my years of doing this. The recipe written below is the last one.
I find this easier if you quantify the cucumbers & onions by weight and use a scale to weigh the cucumbers and then proportion the amount of onions & spices to this (see below). I simply cut off the ends of the cucumbers I want to use, weigh these as I cut them up to get a rough measurement, and then do the math for making proportional amounts for all of the other ingredients. A relatively accurate kitchen scale is all that you need. Sometimes using a calculator makes sense.
Cucumbers: This recipe comes out better if these are freshly picked if possible. Most recipes say this, but know I have had reasonable to great results with cucumbers that had been refrigerated for a week. So don't get crazy about this.
Onions: I've tried lots of different types and these have all altered the final results. Use White Onions for this recipe. If you use other types, you should consider altering the spices. I've tried a number of different types with all sorts of, uh, results.
INGREDIENTS
2 ½ Pounds (1134 Grams) Cucumbers
1 Pound (454 Grams) White Onions
¼ cup Pickling Salt (Kosher salt okay, but know that other types of salt have impurities that can alter the appearance & taste of the result)
2 ¼ cups Natural Distilled White Vinegar, 5% acidity. There is a difference in the way vinegar is made, with the older techniques costing more. I've had the best results with Costco Heinz which is made the old fashioned way.
2 cups Sugar (½ cup Honey). If you like sweeter results, go to 2 ¼ cups. If you use sweet onions (like Vidalia), use less!
1 Tablespoon Mustard Seeds (I'm not precise with this measurement)
1 Teaspoon Crushed Red Pepper Flakes This adds another layer of flavor, but have found that I need to be careful with this measurement.
¾ Teaspoon Celery Seeds
Cinnamon Stick (about 1" long). This flavors the brine. Don't leave it in when you put the results into jars.
6 berries Allspice
1/8 Teaspoon (PINCH) ground Allspice
6 whole Cloves
1/8 Teaspoon (PINCH) ground Cloves
½ Teaspoon Turmeric
The amounts listed above will makes about 5 pints of pickles. I typically do 2 or 3 times these amounts per batch. Until I get larger pots, this is what works for my kitchen.
METHOD
Part 1 Slice the cucumbers. I use a mandolin on the thickest setting, meaning slightly under ¼". I've learned that this is the most efficient way to slice vegetables, but have learned the hard way that it is easy to get hurt, so please be very careful. Cut up the onions. I slice the onion perpendicular to the axis of the onion into slices about ½" thick, then chop these into cubes. Put these into a bowl, add in the salt making sure it is evenly mixed throughout the bowl. Cover with a kitchen towel (not a paper towel or terry cloth!), cover with ice and put in refrigerator or a cool place for a few hours. I only wait 2 hours or so. Most recipes say wait longer, but I don't like to because the result is typically too salty for my tastes. After 2 hours, you'll be happy to have used the towel as it makes taking the ice off really easy.
Thoroughly rinse the cucumbers & onions. Do it again. Okay, one more time. Now, the final results won't be too salty.

Part 2 Sterilize the jars (important if you want to store the results out of the refrigerator). I use our oven, putting the glass jars into 300 degree heat for 15 – 20 minutes, the lids in for about 5 minutes. I put these on trays that I pull out, place on the counter and fill on these trays because it keeps the mess down and assists by keeping the jars hot for the filling process (why I list this as part 2).
Part 3 Put the vinegar, sugar & spices all in a pot on the stove top. Bring to a boil quickly, mixing so the sugar on the bottom doesn't burn before it can mix into the vinegar. Once boiling, add in the sliced cucumbers & onions, stirring occasionally. The goal is to heat these up evenly and quickly. Don't take too long: if this simmers too long, it alters the results (mushy pickles)!
Part 4 Fill the jars. Its easy, but I have a water bath that allows me to properly boil the jars after I've filled them properly and put the lids on the jars. Educate yourself on the process, but don't be daunted. It isn't a big deal (people have done some version of this for centuries). Rather than go into a course on food safety, educate yourself on food safety.
http://www.foodsafetysite.com/consumers/resources/canning.html