Open invitation to sing at First U:  
When you're in a choir, the whole world sings.
COLLEGE STUDENTS,  ADULTS,  YOUNG ADULTS,  TEENS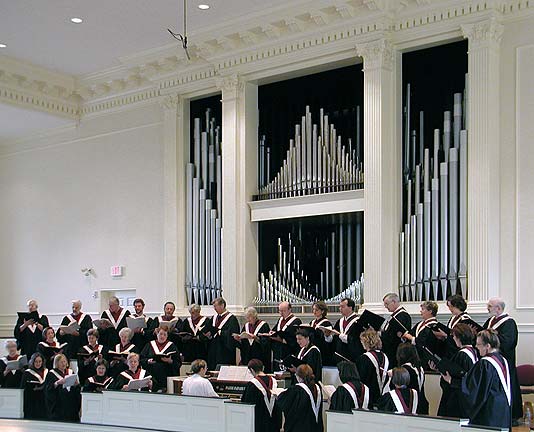 (no auditions, flexible schedule)
During the church year (Sept – May), rehearsals are Thursday nights, and we sing typically three Sundays each month: two anthems per Sunday and various responses/descants.
Our current schedule/repertoire
The logistics of a typical Sunday Morning Service
Benefits of choral singing at First U:
An hour each week away from the rush of daily life and goings-on

Opportunity to sing large works with orchestra or instruments several times a year.

A diverse repertoire of classical, gospel, earth-centric choral works.

Feeling of satisfaction and achievement

Improved Musical Skills can be retained as a life-long hobby and interest

Learn interesting facts about music history

Enter into lively discussions about the meaning and theology behind choral texts

Fun rehearsals, making music as a group, make new friends, camaraderie each week

"Reserved Seating" in the balcony

Bird's-eye view of the service

Front-row seats to see and hear the finest of New England's instrumentalists and soloists during the service music

Enjoy exquisite home-cooking at our pot-luck dinners at various times throughout the year

Get a free meal each year at our Choir Celebration Banquet

Sunday aerobics during the processional hymn – your visit to the gym already taken care of !
Research concerning the Benefits of Choral Singing:
Benefits of singing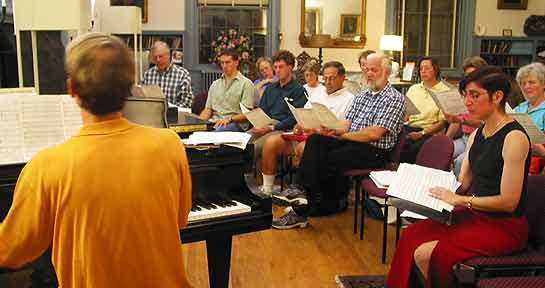 Centre for Health Education and Research, Canterbury Christ Church University College, Canterbury, Kent CT1 1QU, England. s.m.clift@cant.ac.uk
Two exploratory studies are reported on the perceived benefits associated with active participation in choral singing. In the first study, 84 members of a university college choral society completed a brief questionnaire that asked whether they had benefited personally from their involvement in the choir and whether there were ways in which participation could benefit their health. A large majority of respondents agreed they had benefited socially (87%) and emotionally (75%), and 49% spiritually. Common themes expressed were:
meeting new people,
feeling more positive,
increased control over breathing,
feeling more alert and
feeling spiritually uplifted.
With respect to health benefits, improved lung function and breathing, improved mood and stress reduction. In the second study, over respondents strongly agreed that 'singing helps to make my mood more positive', 'singing is a moving experience', 'singing makes me feel a lot happier' and 'singing is good for my soul'. Oblimin identified six dimensions of benefit associated with singing:
benefits for well-being and relaxation,

benefits for breathing and posture,

social benefits,

spiritual benefits,

emotional benefits, and

benefits for heart and immune system.
A second study shows Favorable Effects of Choir Singing or Listening on Secretory Immunoglobulin A, Cortisol, and Emotional State.
Other related articles:
Feel a Lot Better When I Sing by Barb Wilson in Complete Health Magazine, Summer 2003